Overview: What are we talking about?
Revelation Pets Payments is our most comprehensive payment processing integration to date for Revelation Pets customers. Revelation Pets Payments' infrastructure is powered by Stripe, which is an industry-leader for payment management and fraud protection. Revelation Pets Payments has an advantage over our other payment integrations because it is the only integration that you can manage from within your Revelation Pets app. Additionally, it is the only integration that offers synced, in-person payments with terminal for our US, UK and Canadian customers.
This article includes:
Related Articles:
Revelation Pets Payments Features
Competitive rates

Collect online payments

Collect automated deposits

Sell daycare credits through the Online Booker

Sell automated recurring daycare credit pack subscriptions

Securely store the last credit card used on file for each customer

Collect payment for all outstanding payments on a client's account in a single transaction

Integrated refunds

Integrated dashboard and reports

Credit card terminal that syncs right to Revelation Pets*

Dedicated cards on file and support for multiple cards on file

Ability to accept ACH payments**

Everything important to your business lives right in your Revelation Pets app!
*US, UK, and Canada customers only
**US customers only
Who is eligible?
Revelation Pets Payments is available in 42 countries and continues to expand, you can view current eligible countries HERE. Currently, an integrated credit card terminal is only available in the US, UK and Canada.
US Rates & Fees
Card Present (terminal payments) = 2.6% + $0.05

Card Not Present (online payments) = 2.8% + $0.30

ACH (bank account payments) = 0.8%

Dispute Fee (assessed per disputed payment) = $40.00

Account Debit Fee (assessed per debit event) = 0.25% of the account debit amount
International Rates
Go to the integrations page, Account Settings >> Integrations >> click 'Create an Account' >> view rates for your country. If you have any questions, please contact our Support Team support@revelationpets.com.
Payout Schedules
Revelation Pets Payments payout schedules are typically automatically set up on a 2 business day schedule. However, some international accounts and accounts that are identified by Stripe as higher-risk may have different payout schedules, please see below.
| | | | | | | |
| --- | --- | --- | --- | --- | --- | --- |
| | 2 Business Days | 3 Business Days | 4 Business Days | 7 Business Days | 7 Calendar Days | 14 Calendar Days |
| United States | X | | | | | |
| Australia | X | | | | | |
| Canada | | X | | | | |
| U.K. | | X | | | | |
| New Zealand | | | X | | | |
| India | | | | X | | |
| E.U. | | | | | X | |
| High Risk | | | | | | X |
If your country is not listed above please contact our Support Team at support@revelationpets.com for more information regarding payout schedules.
Storing One or More Dedicated Cards on File
Revelation Pets Payments includes a "Last Card Used" feature for payments, which remembers the last card that was used on a booking. In addition, effective 5/13/2021 users will have the ability to save one (or more) dedicated cards on file so that checkout is quick and easy.
Each owner has a Cards on File section on their profile, which will display all currently saved cards and allow the user to add more. This section only displays on the Business side of the app, and cards can be managed by any business user.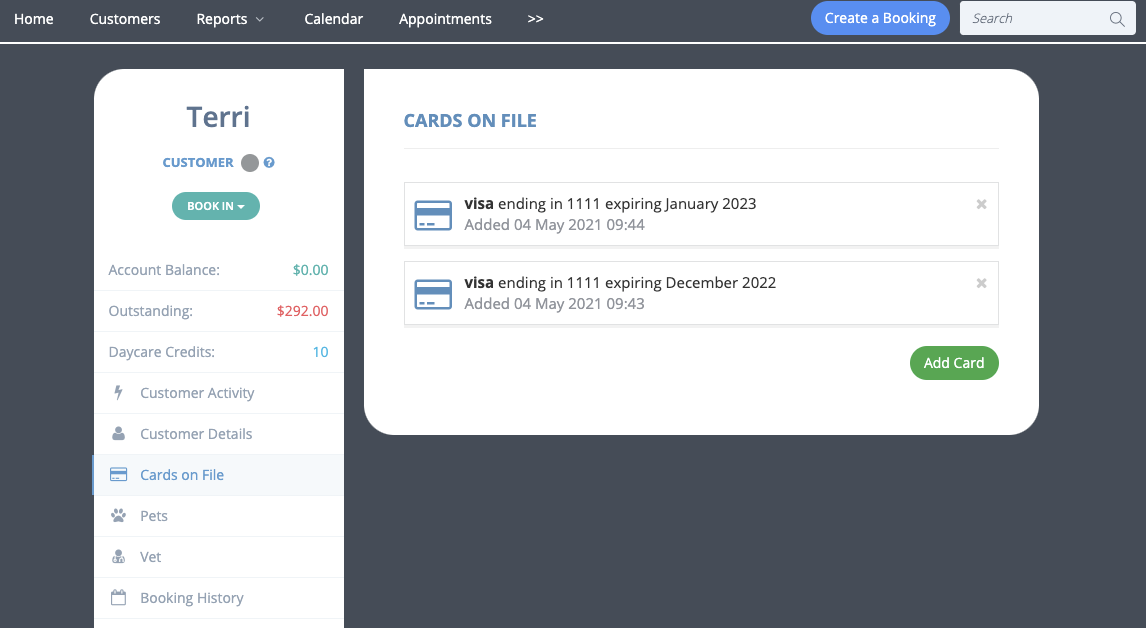 When checking out, the customer's cards on file will display in the payment type dropdown to be selected as needed.

Collecting Payment for Multiple Outstanding Payments in One Transaction
The business can collect payment from a client for any and all bookings that have outstanding balances all in one transaction.

You can access this by clicking on the Outstanding Balance section of the customer's profile.




You will then be able to select the bookings the pet owner wishes to pay, and then choose a payment method and collect payment for all at once.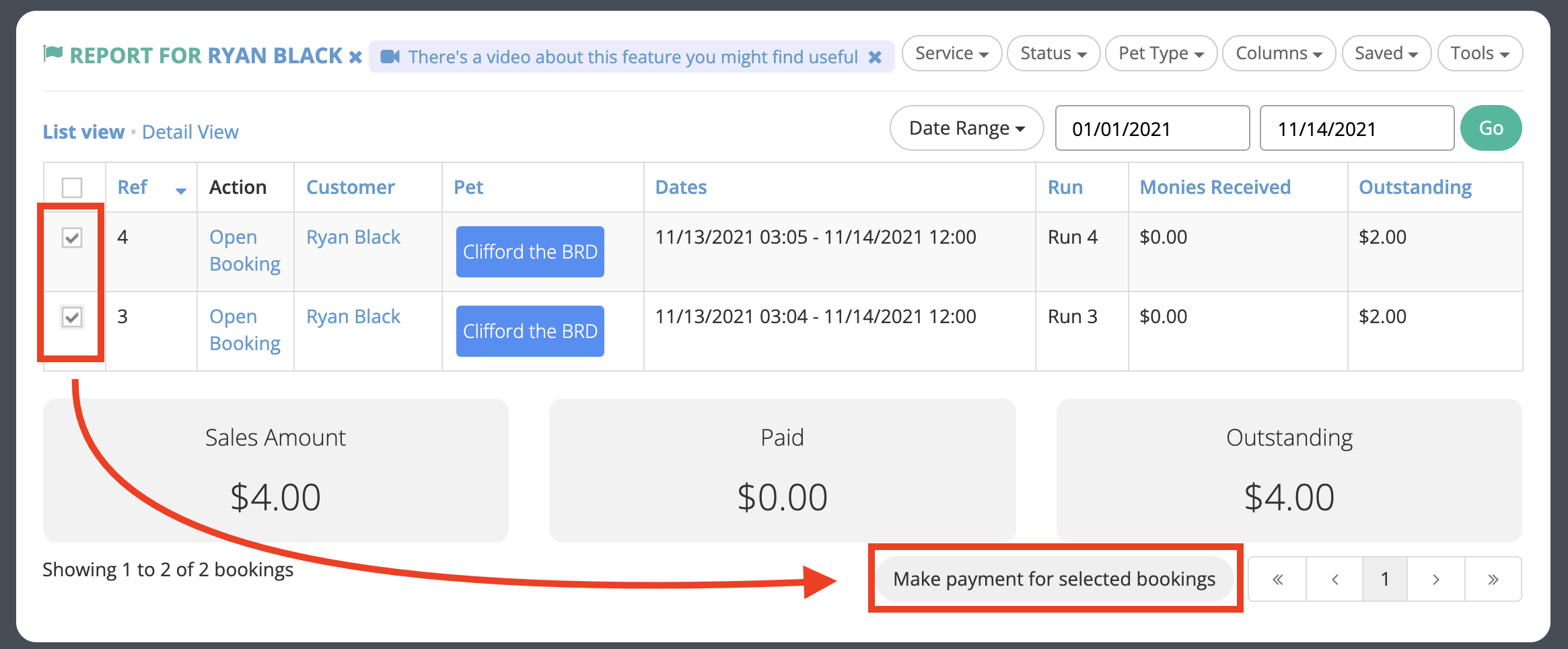 Ordering Hardware
Currently, Stripe terminals are available for the US, UK, and Canada. Customers in these countries can order a terminal directly from within their Revelation Pets app following the steps below.
1. Navigate to Account Settings >> Integrations >> View Account.


2. On the left-hand side, go to your Payments Dashboard >> Card Readers >> +New Order.

3. In the pop-up window >> Select the hardware you want to purchase >> Complete Recipient and Shipping information >> Click Submit.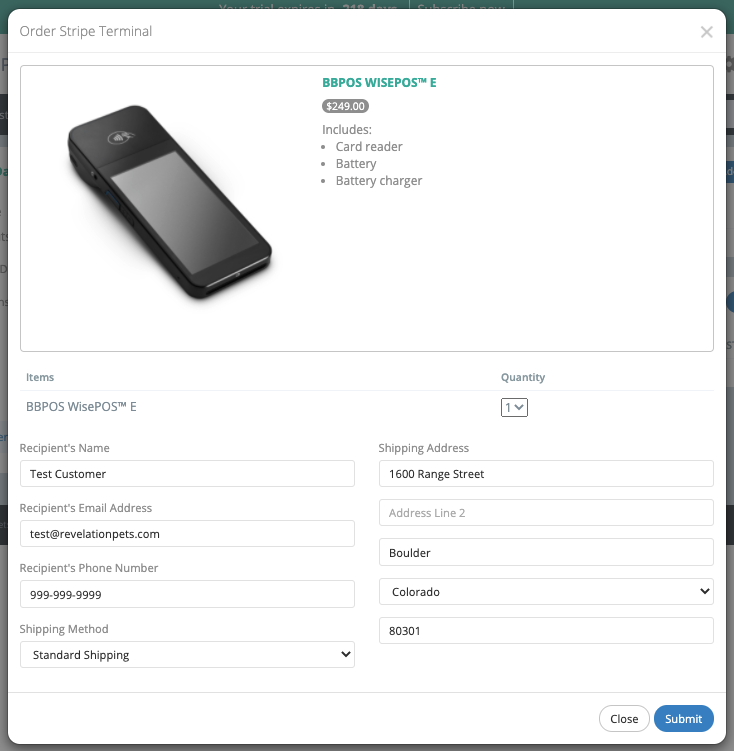 4. After clicking Submit, you will be prompted to enter your payment information. Your completed order will display under your "Order History."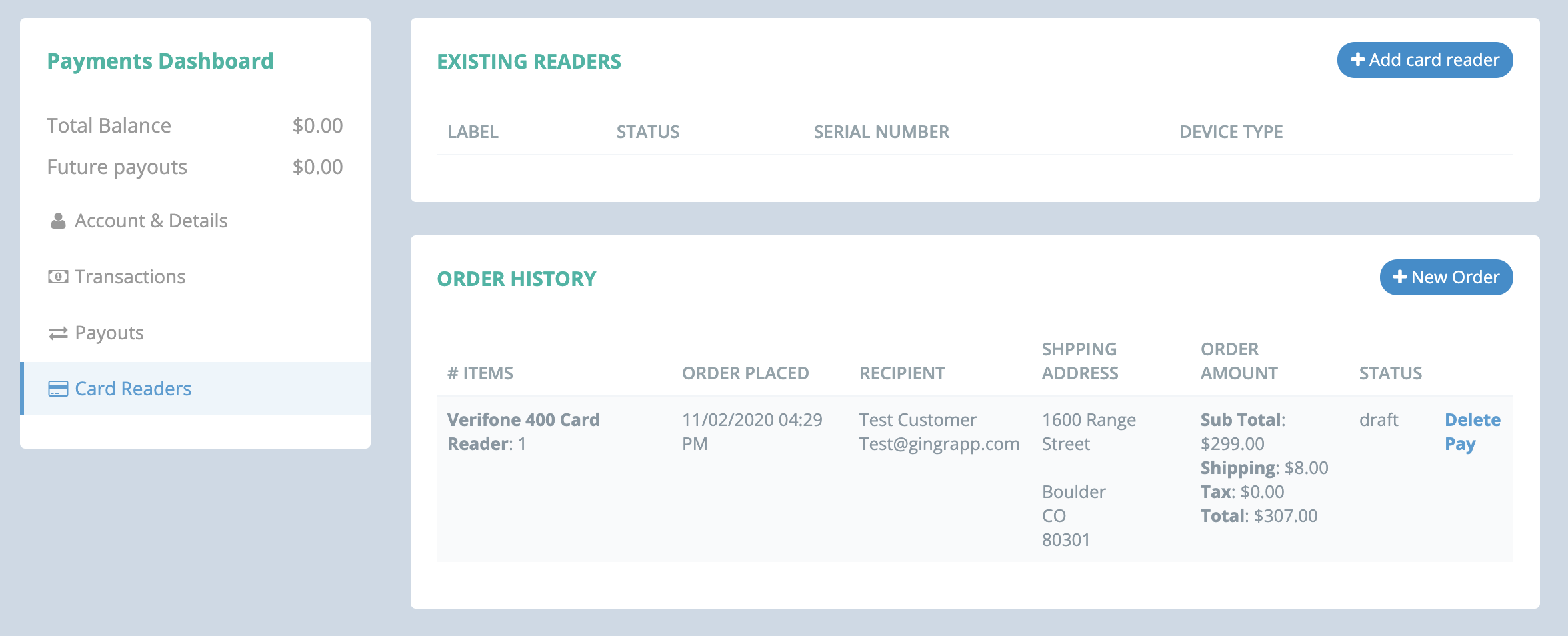 FAQs
If I am a current Stripe customer, do I need to reapply for Revelation Pets Payments?
Yes. We will be sunsetting our former Stripe integration and replacing it with Revelation Pets Payments powered by Stripe. Existing customers using Stripe should migrate to Revelation Pets Payments. We recommend you keep your old Stripe account open to access historical data and reporting as needed. Click HERE for a knowledge base article on how to sign up for Revelation Pets Payments.
If I currently have a Stripe terminal (Verifone P400), can I use the same hardware for Revelation Pets payments?
Yes! If you are currently using a Stripe terminal (Verifone P400), you can repurpose it for your new Revelation Pets Payment account. Click HERE for a knowledge base article on how to repurpose your existing terminal.
Can I issue a refund directly through my Revelation Pets app once I am signed up for Revelation Pets Payments?
Yes! With Revelation Pets Payments you can issue refunds back to a customer's credit card directly through your Revelation Pets app. Click HERE for a knowledge base article on issuing refunds.