Overview: What are we talking about?
US customers using integrated payment processing through Rev Pets Payments have the ability to collect ACH payments. This article outlines how to enable this feature and collect payments using this method.
The processing fee for ACH payments is 0.8% per transaction.
*Important: This feature is currently only available for customers located in the US who are using integrated payments through Rev Pets Payments. If you need assistance with this sign up, please review our article on How to Sign Up for Revelation Pets Payments.
Setting Up ACH
To enable this feature, navigate to Account Settings > Integrations > Revelation Pets Payments > View Account. On the Account & Details section, scroll down to the Settings area and select the applicable option under the Payment Type Setting dropdown. Here you can choose to accept credit card payments, ACH payments, or both.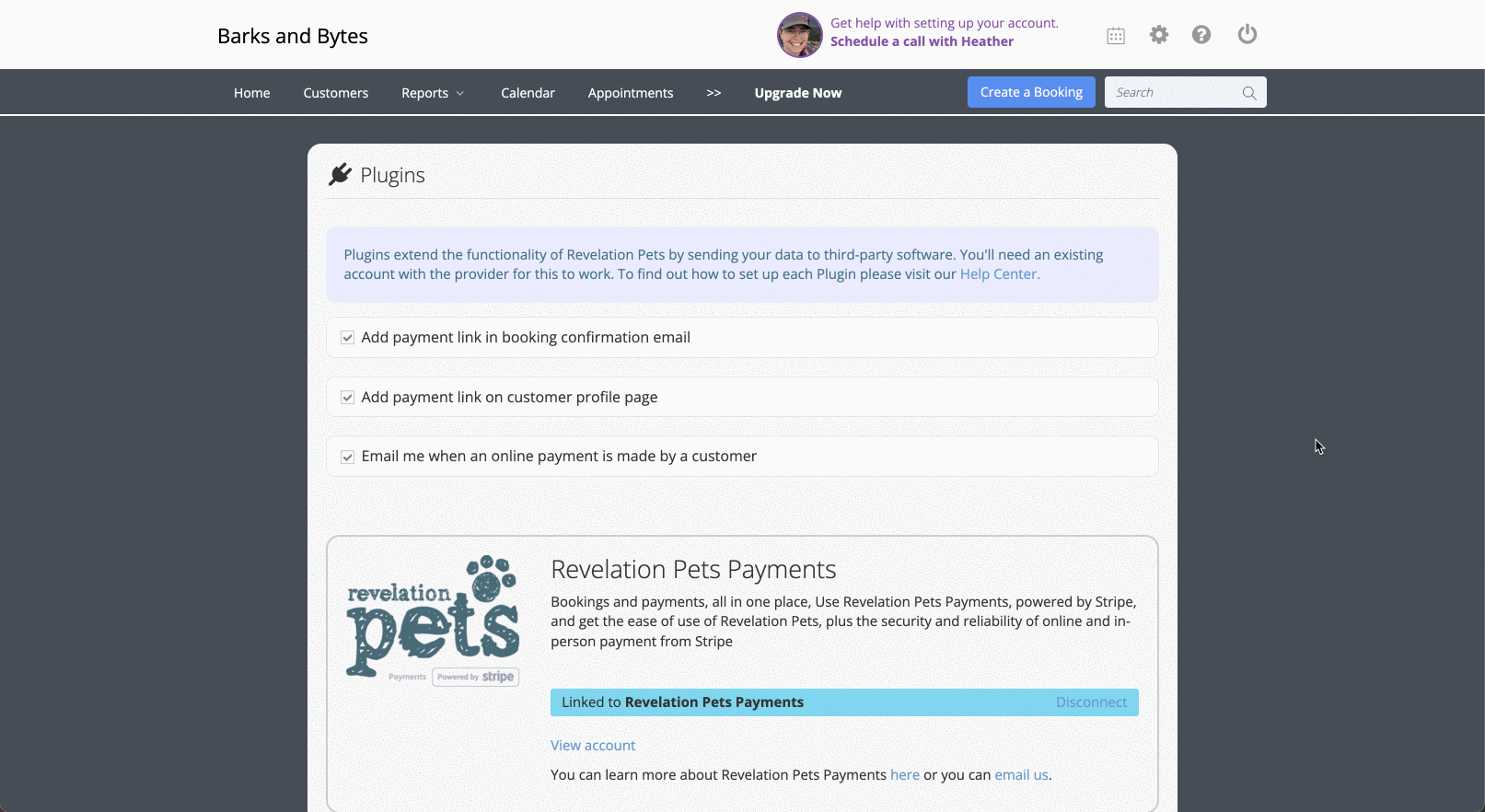 Once you have enabled ACH payments in your app, you will see an option to add a bank account under Cards on file & bank accounts on the profile page for each of your customers.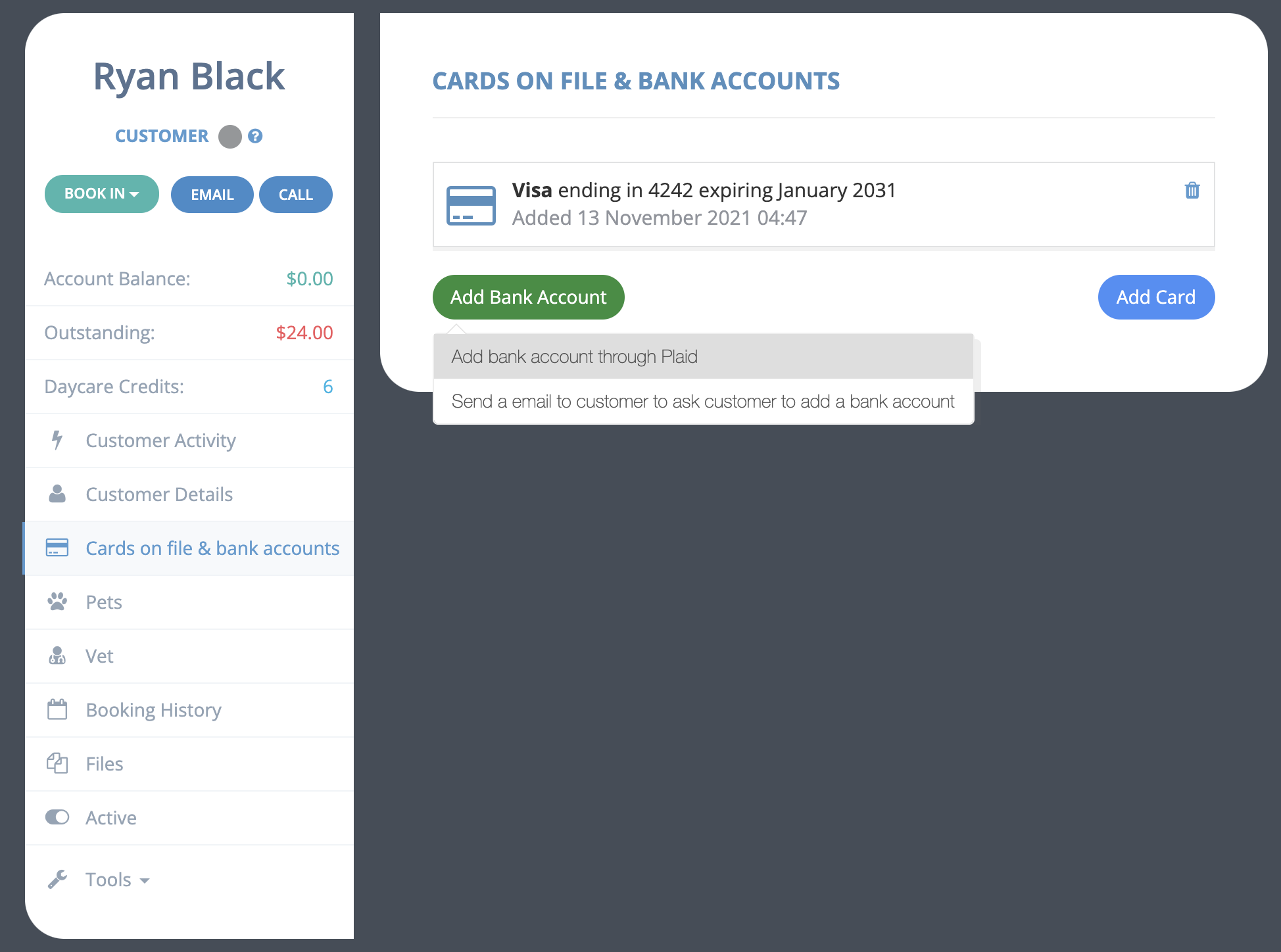 To add a bank account, click Add Bank Account and choose one of the available options:
Option 1: Add bank account through Plaid - this will open a program called Plaid on the facility computer, prompting the pet parent to log in to their online bank account for verification.
Option 2: Send email to customer to enter their bank information - this will send a secure link to the pet parent's email address, asking them to input their bank information on their personal device (this is likely preferred). When they click the link they will go through the Plaid plugin to add their bank account from their own device. You can customize the text in this email prior to sending it out if you'd like.
Once added, the business will see the bank account as an option on the owner's account: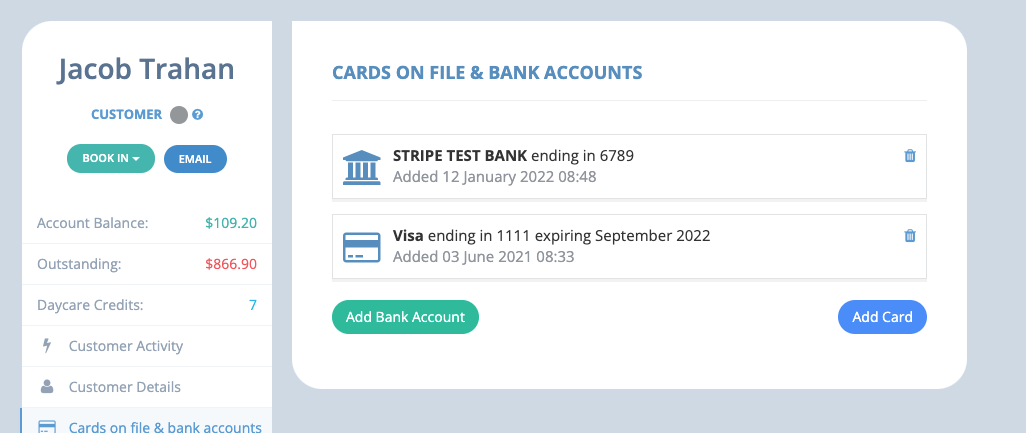 Accepting ACH Payments

Navigate to the booking payment page for an owner with a saved bank account and select "Stripe Bank Account" as the payment type. The last 4 digits of the account will be displayed next to the payment type helping you identify the correct account.


When ACH is used as a payment method, a status icon for the payment will be displayed anywhere the payment is referenced (on the booking itself, in the payments report, etc.).

ACH payments take up to 5 business days to receive acknowledgment of their success or failure, and at that time the status will be updated to either be confirmed as paid (✅ ) or be marked as payment failure (🚫). If a charge is unsuccessful, you will be notified via email.
Please note that due to this processing time, your Rev Pets Payments account balance may take up to 7 business days to reflect ACH payments in your available balance.