Overview:
Revelation Pets includes an Outstanding Payments Report that helps you track pet parents' outstanding balances across bookings. When using integrated payments through Rev Pets Payments (RPP), outstanding payment reminders can also be used to encourage your pet parents to submit payment for upcoming or past bookings. Additionally, with RPP you can request multiple outstanding balances at once, so it is easy for a pet parent to fully pay their current account balance with one combined payment.
Related Articles:
This article includes:
Outstanding Payments Report Overview
The Outstanding Payments Report can be accessed from Reports » Outstanding Payments and will generate a list of all customers with a partially paid or unpaid booking across a defined date range. You can adjust the date range to include as far back as the day the business first started using Rev Pets to any date the future.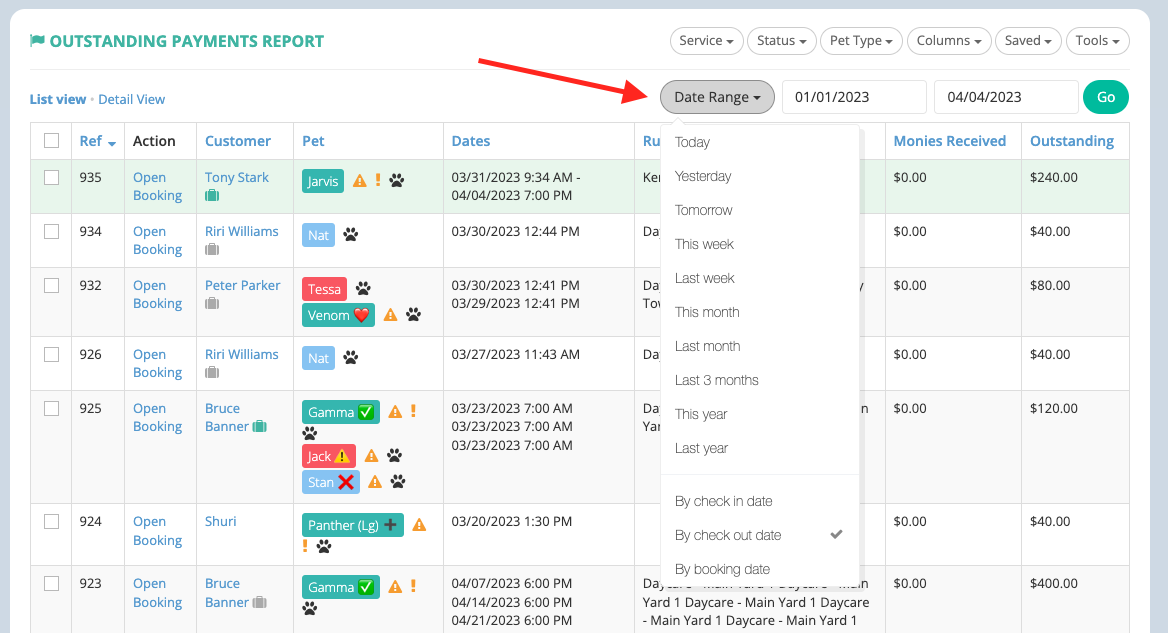 The report mentioned above will generate a list of all customers with an outstanding balance, but if you'd like to view an outstanding payments report for a single customer, go to the pet parent's profile page and click "Outstanding". This will generate an Outstanding Payments report just for that pet parent.
Payment can be collected right from the report by checking the box and selecting "Make payment for selected bookings." Applications using integrated payments, through Rev Pets Payments, have the ability to select multiple bookings, and charge an existing card on file for all selected bookings at once.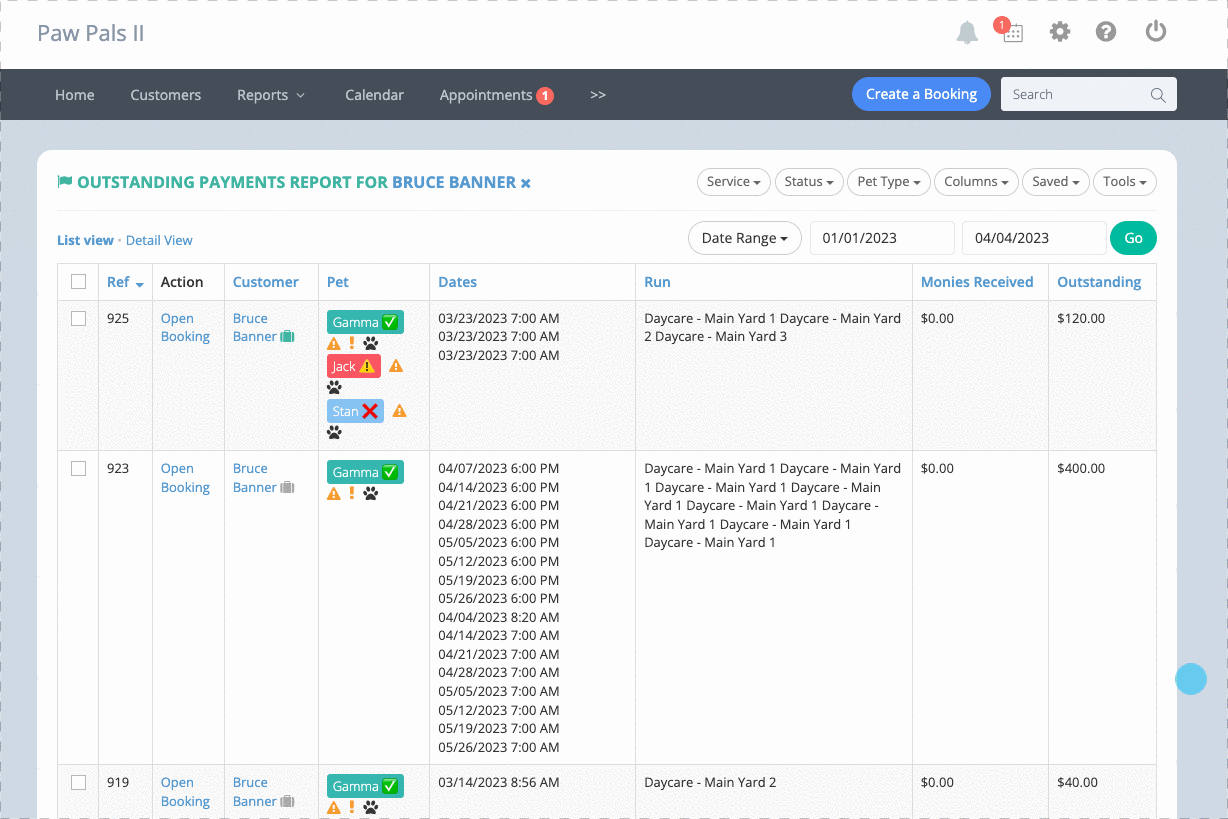 Outstanding Payments Reminders
When integrated with Rev Pets Payments, you have the ability to configure payment reminder emails for upcoming bookings, as well as past bookings that have not yet been paid! This feature is a huge timesaver for businesses when it comes to collecting prepayments before bookings begin, and tracking down past-due bills from pet parents.
To enable payment reminder emails, navigate to Account Settings » Customer Communication » Payment Reminder.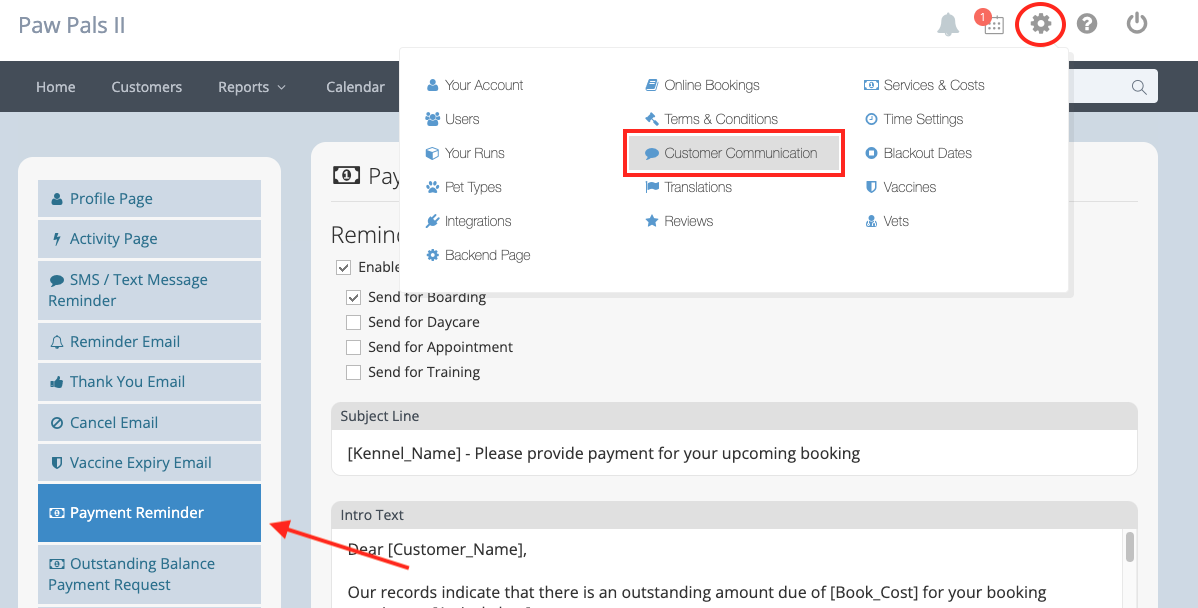 Here you can enable reminders by module, adjust the email verbiage, and configure when the email should send for both the first and second reminder email for upcoming bookings as well as past-due outstanding payments.
For upcoming booking payment reminders, the emails will send automatically on the frequency configured if there is an amount due for that booking.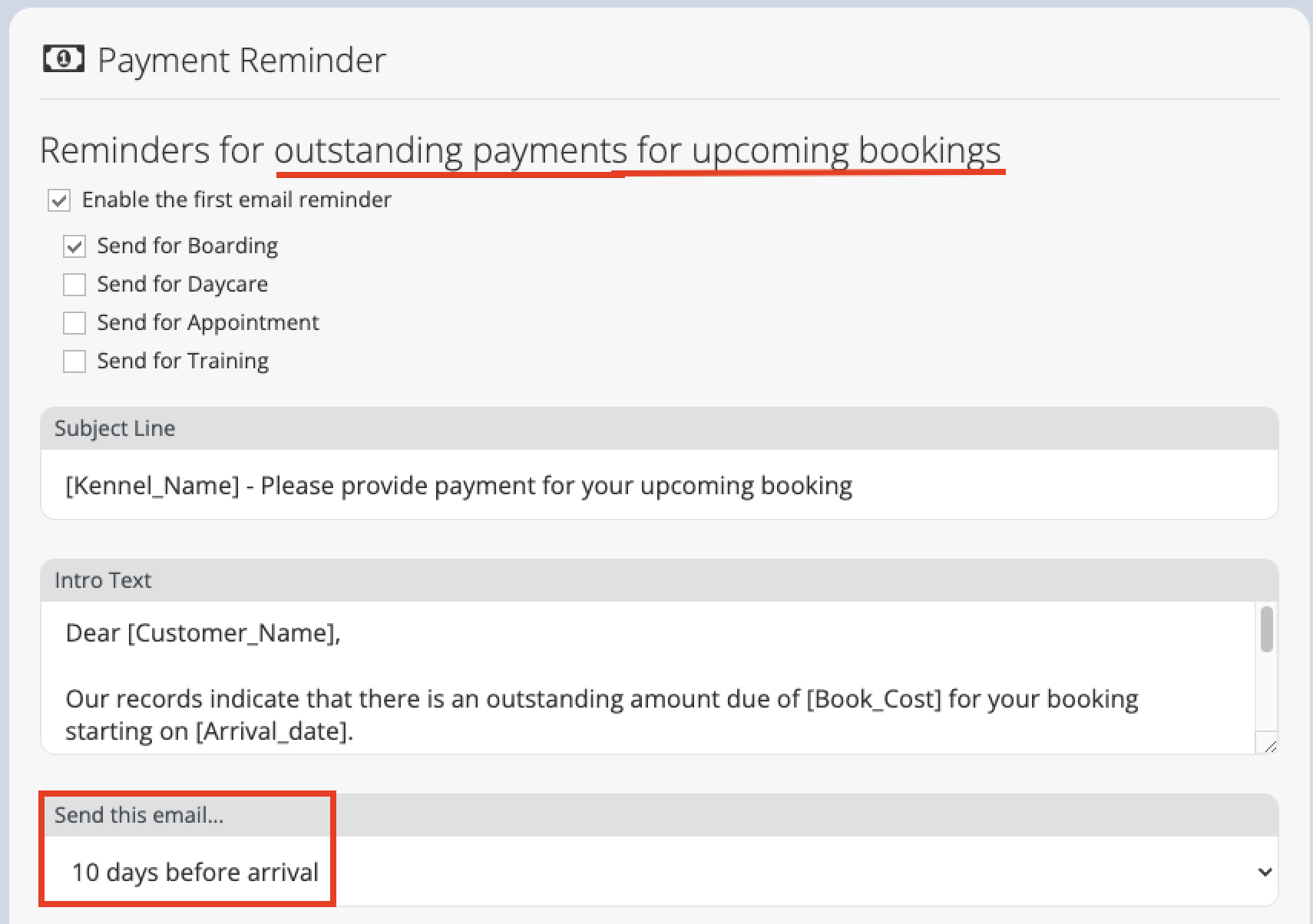 For past due payment reminders, the emails will send automatically on the set frequency after the booking is marked as checked out if there is an amount due.
If you have deposits enabled in your application, there's also an outstanding deposit reminder email you can automate to collect deposit payments for bookings. Once the initial request of the deposit is sent, the outstanding deposit reminder email will continue to send on the frequency selected until the deposit is paid or the booking is canceled or deleted. Learn more about managing deposits HERE.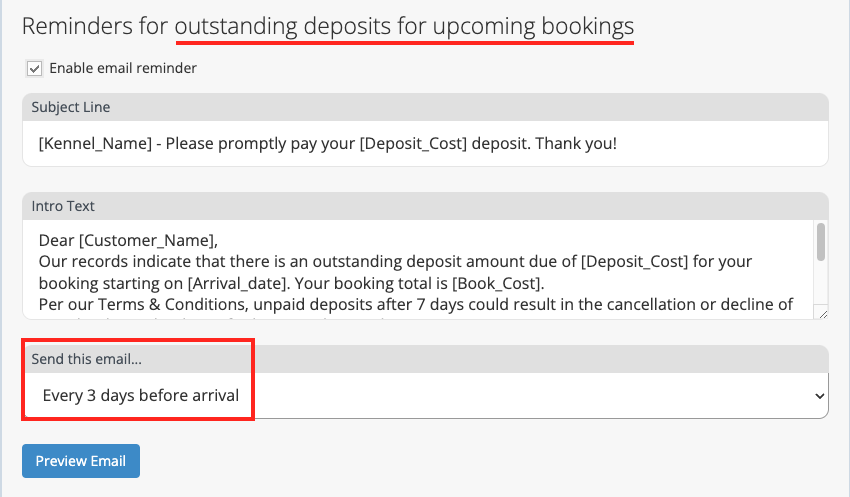 Requesting an Outstanding Balance for Multiple Bookings/Invoices
First, let's edit the template for the Outstanding Balance Payment Request email. Navigate to Account Settings » Customer Communication » Outstanding Balance Payment Request.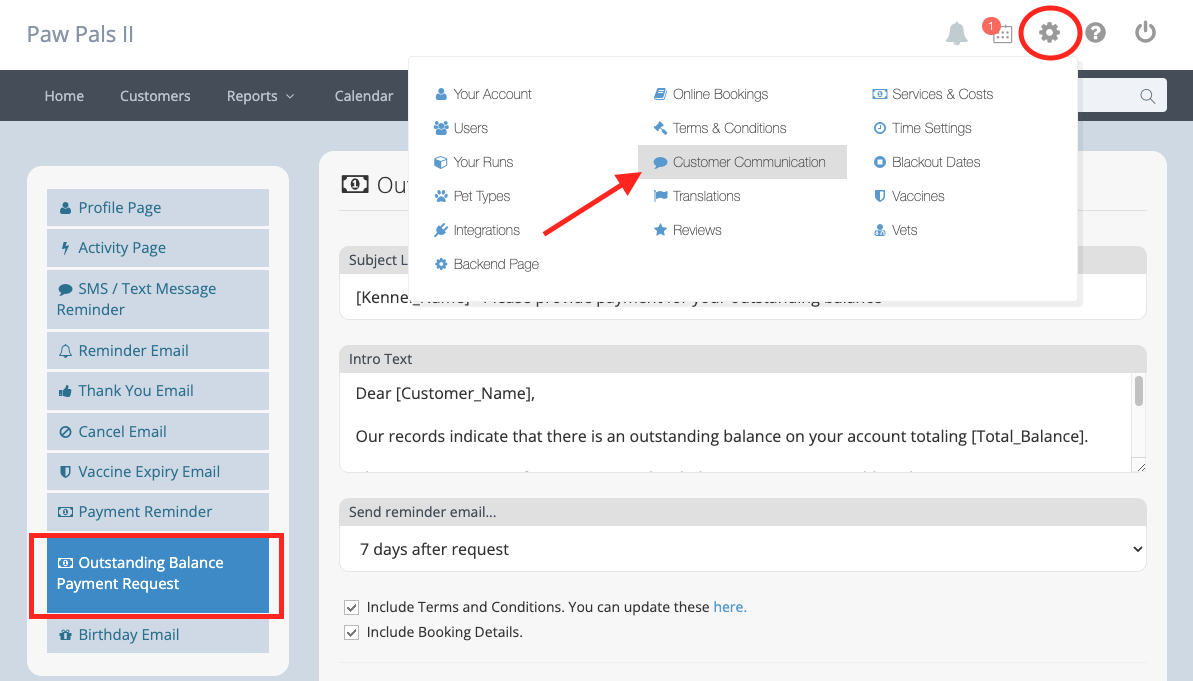 The dynamic variables available for this particular email template are noted at the bottom of the page. Friendly reminder, these variables automatically insert dynamic information from the system. For example, [Customer_Name] will automatically convert into the current pet parent's name as it is noted on the pet parent profile. Dynamic variables just need to be copied and pasted as-is into your email template.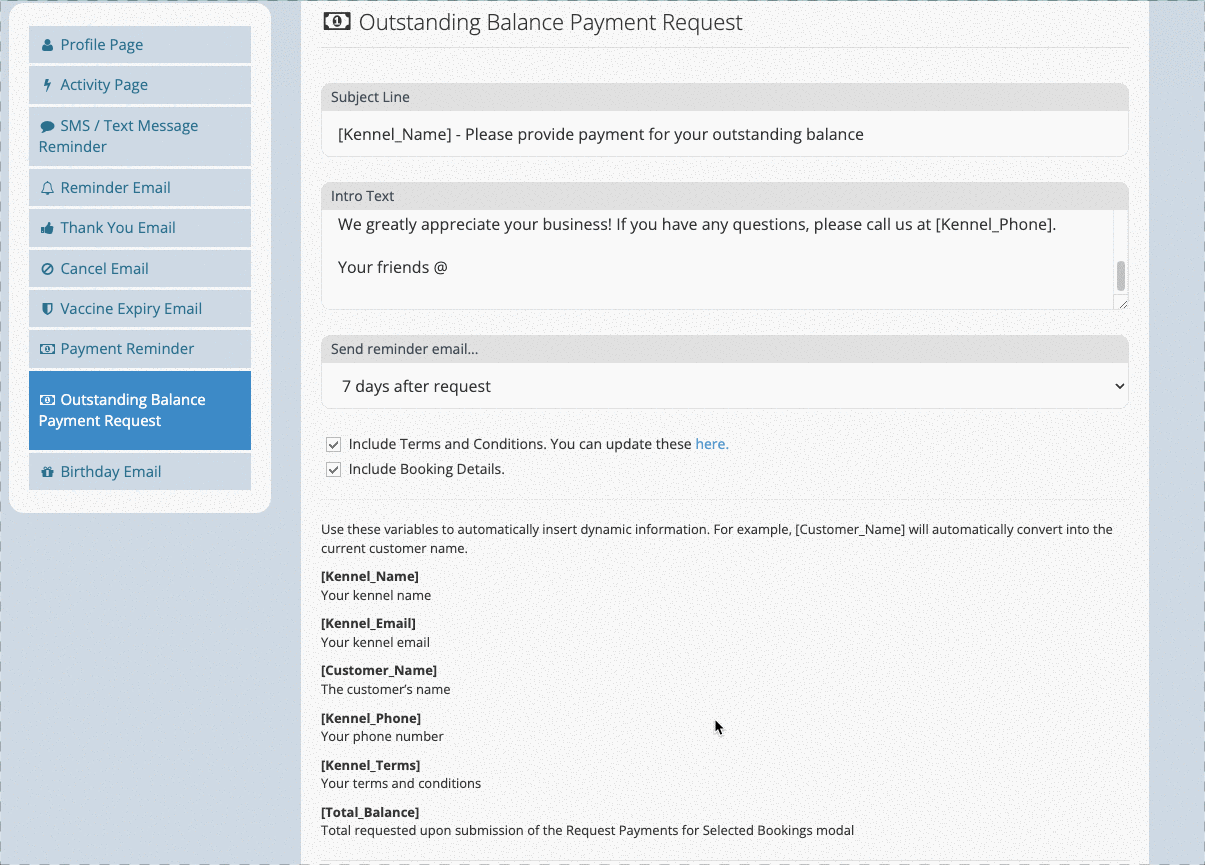 Once you have made the appropriate edits to the Subject Line and Intro Text, you can select the frequency of this automated reminder using the "Send reminder email..." drop-down.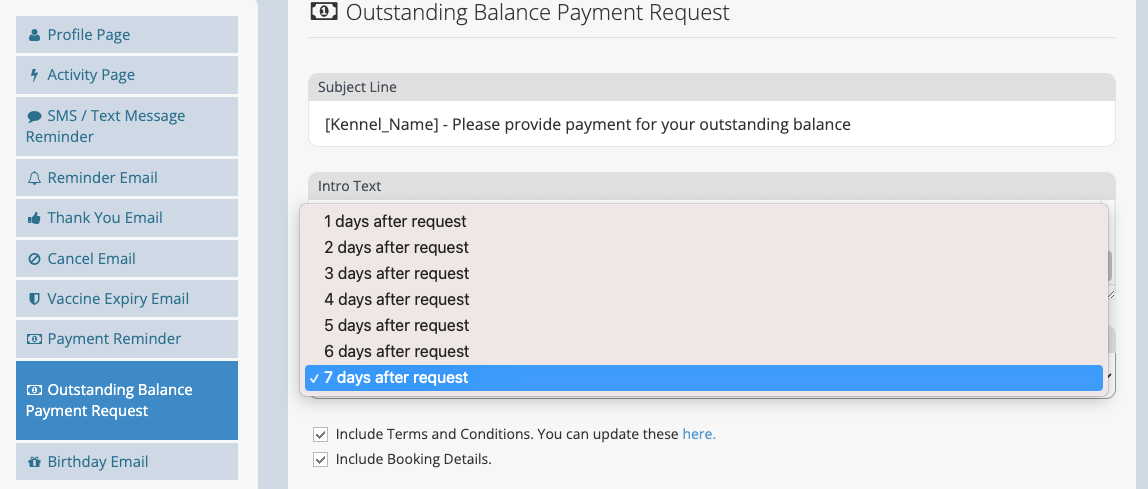 Please note: After the initial outstanding balance payment request is triggered, the automated reminder requests will continue to send to the pet parent at the frequency selected until the balance is paid in full.
Lastly, you can choose to include your Terms and Conditions and/or the Booking Details in this email (these additional details are disabled by default).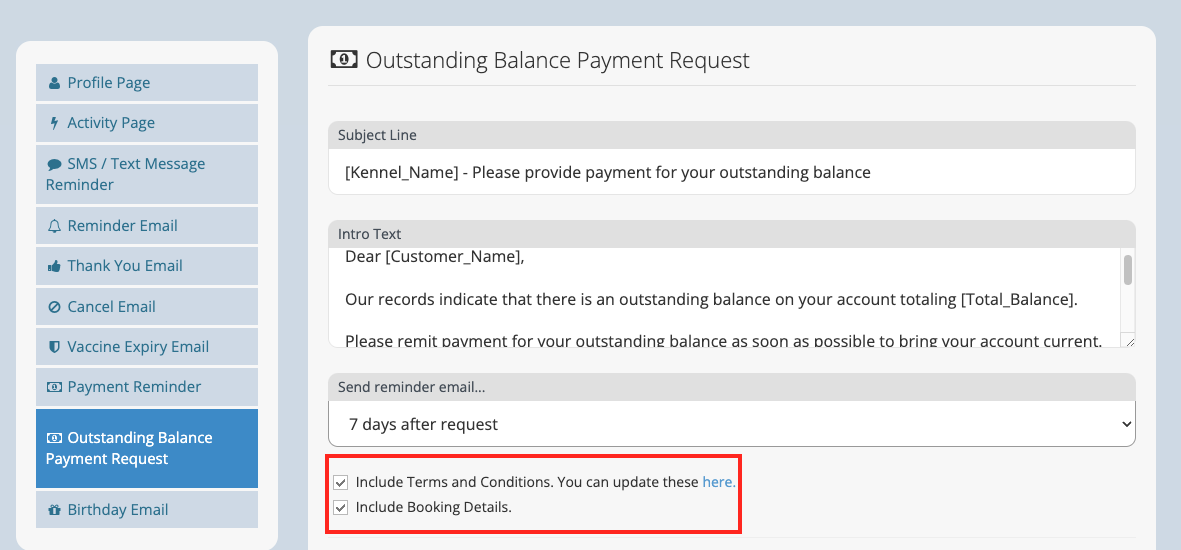 Now that the outstanding balance payment request email has been updated, we can generate an outstanding payments report for a specific pet parent. Navigate to a pet parent's profile » click "Outstanding" on the side menu.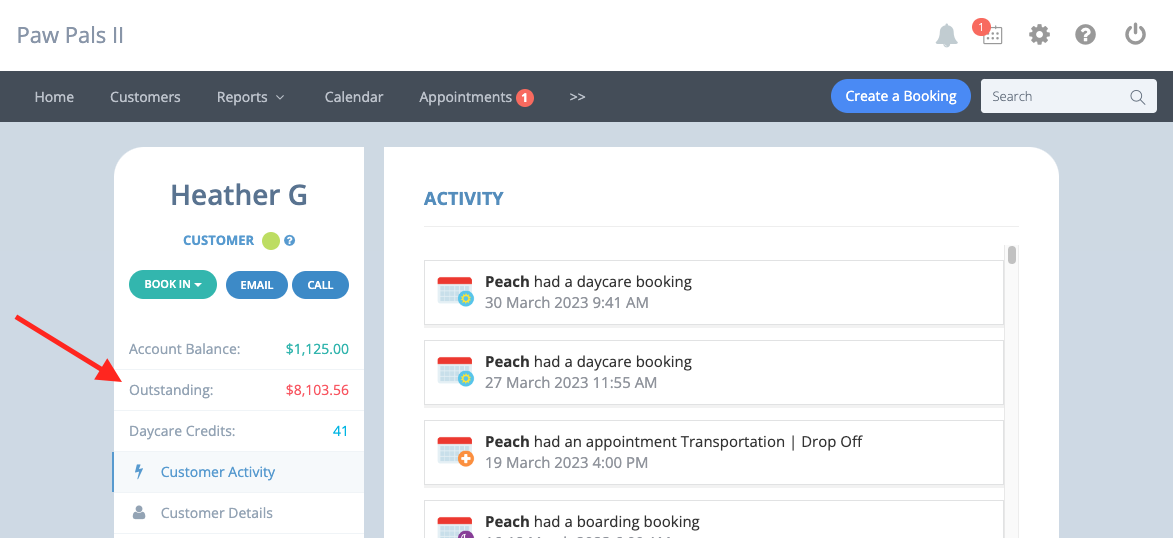 Sort and/or filter this pet parent report as needed to isolate the outstanding balances you wish to collect. In the example below, only the pet parent's outstanding balance for the previous month are being requested.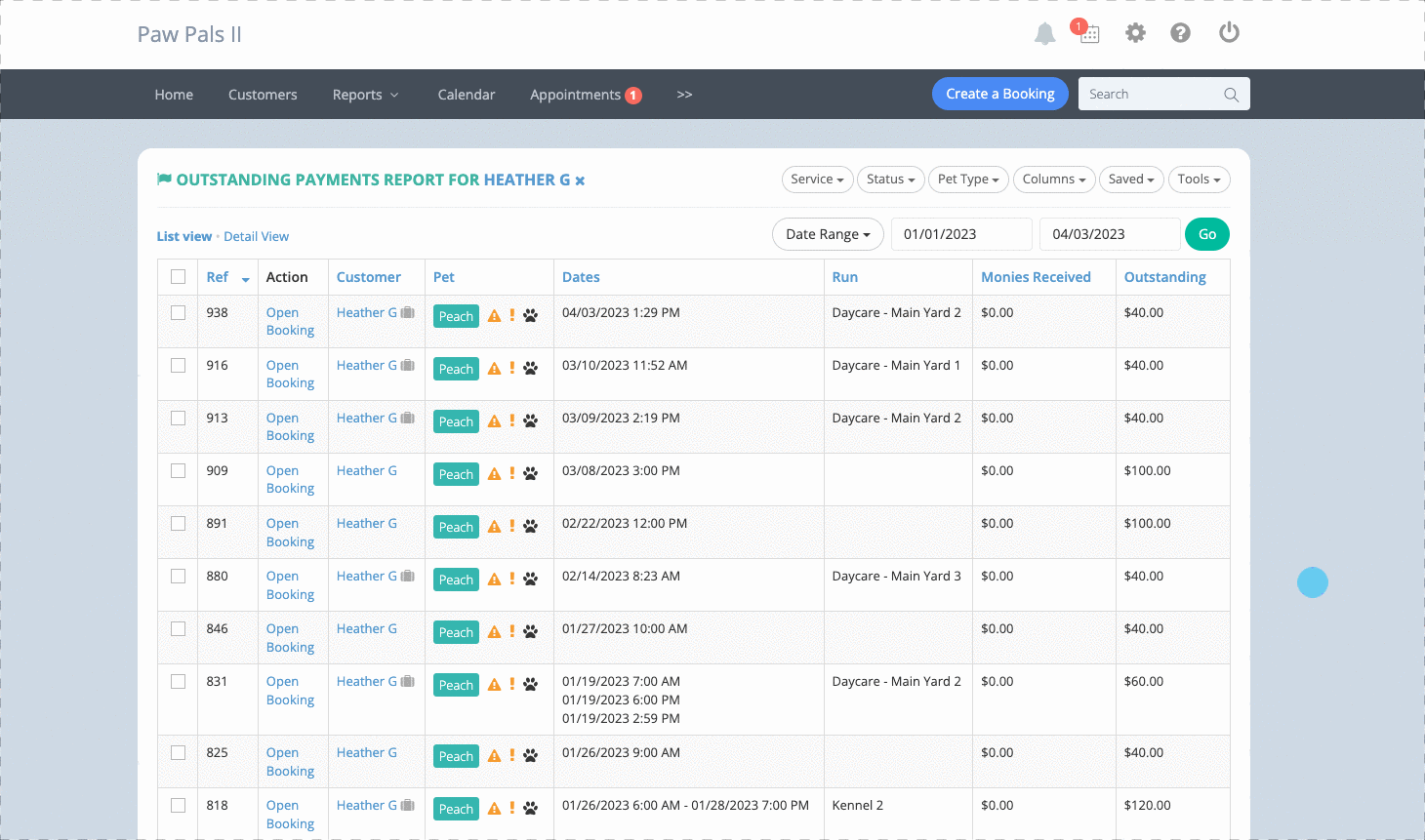 Once you have selected the appropriate outstanding balances, click the "Request payment for selected bookings" button.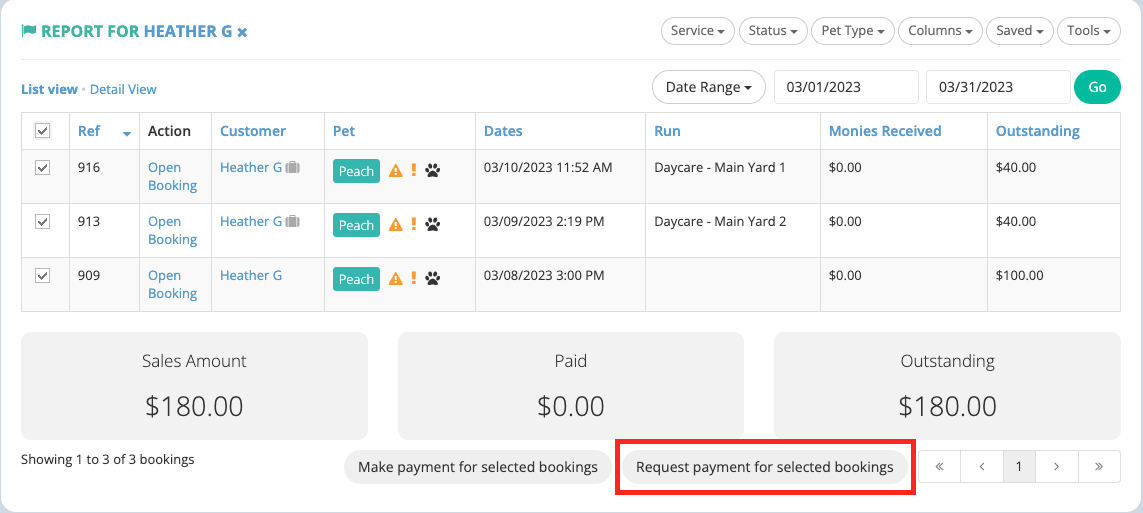 In the pop-up window, a total of the outstanding balances as well as hyperlinked booking reference numbers will display. Similar to other pet parent emails in the system, you can send a copy of this email, include a custom message, add an attachment, and/or choose to send the Main Admin user a copy of the outstanding balance request.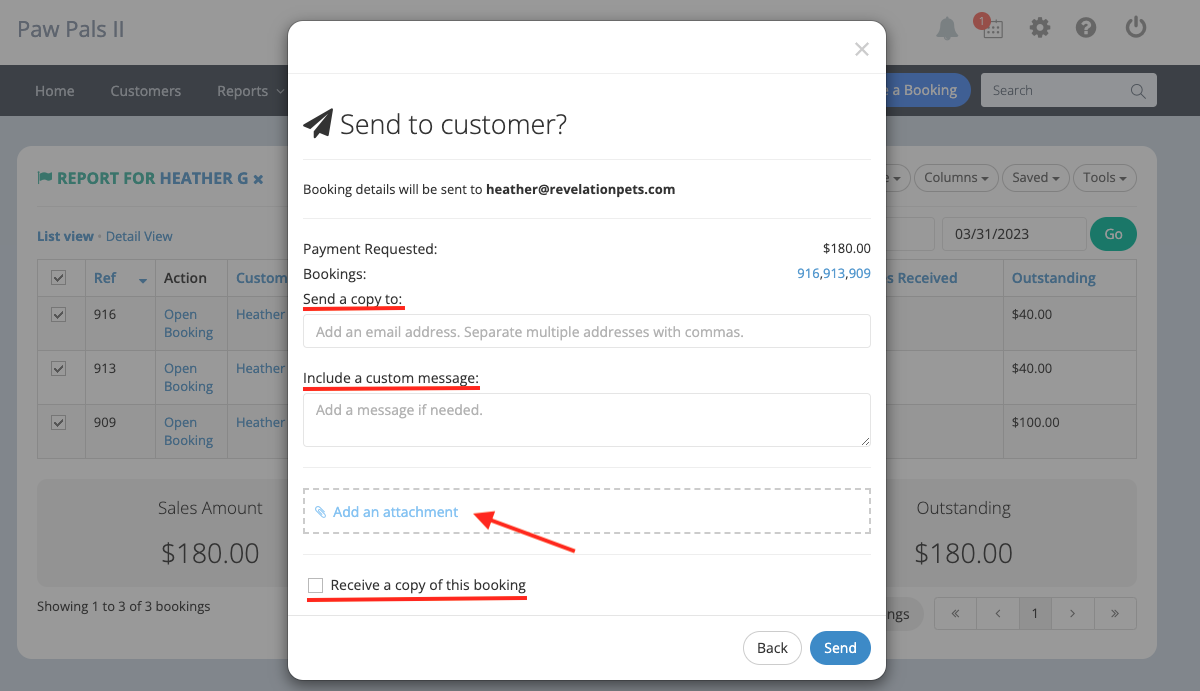 After clicking Send, the pet parent will receive the outstanding balance payment request email as configured in the application and they can remit one payment for multiple outstanding balances.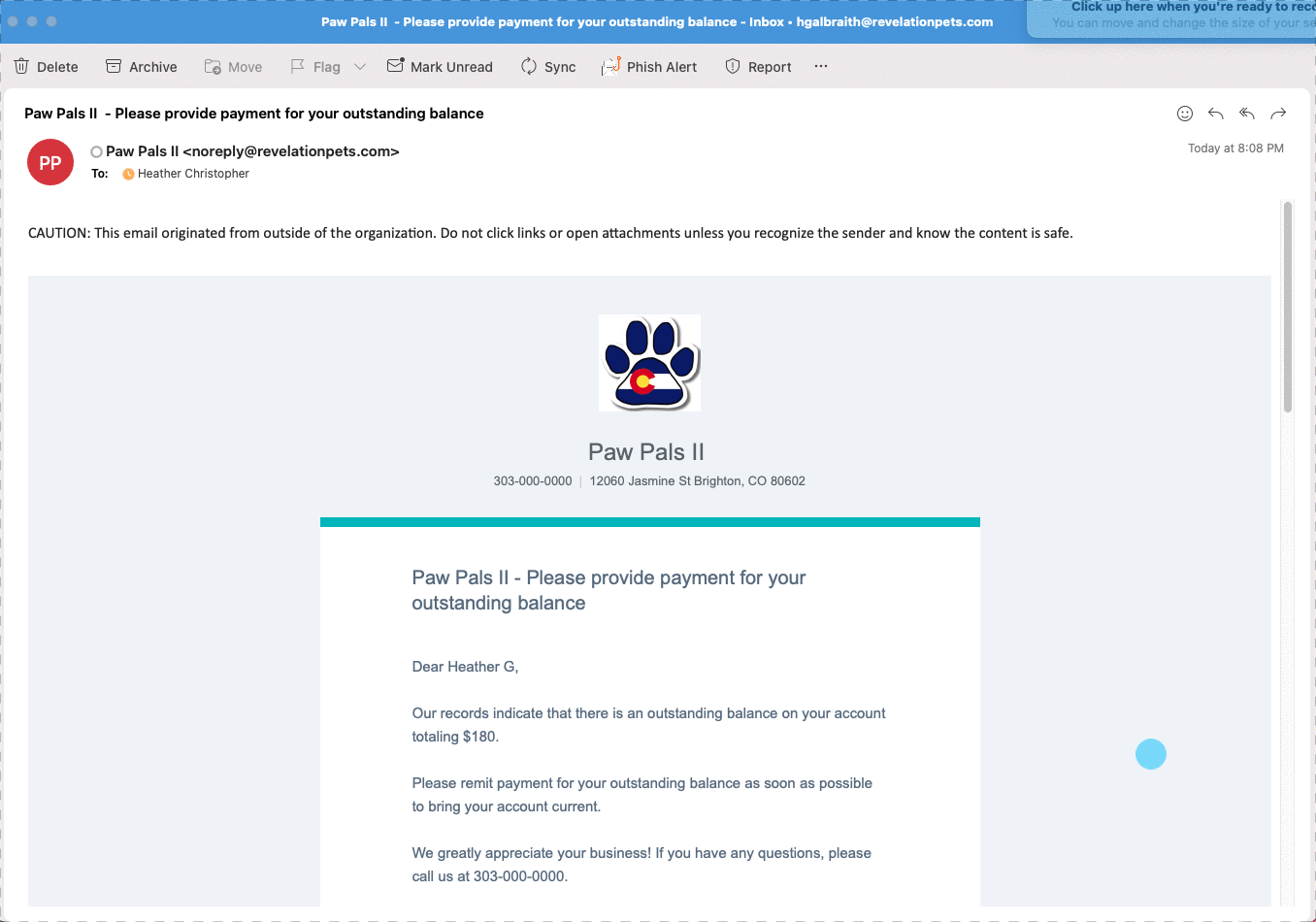 On the business end, the Payments Report will reflect this payment as a bulk payment and will display the hyperlinked "Invoice IDs" for all bookings included in the bulk payment.

Please note: This functionality is exclusive to applications with Rev Pets Payments enabled. Learn more about Rev Pets Payments HERE.
If you have any questions regarding managing outstanding payments, please reach out to our Support Team at support@revelationpets.com