Overview: What are we talking about?
Rev Pets Payments (RPP) is our most comprehensive payment processing integration to date for Revelation Pets customers! Rev Pets Payments' infrastructure is powered by Stripe, which is an industry leader for payment management and fraud protection. RPP has an advantage over our other payment integrations because it is the only integration that you can manage from within your Revelation Pets app. Additionally, it offers synced, in-person terminal payments for our customers in the US, UK, Canada, Australia, and New Zealand.
This article will cover the various sections within the Rev Pets Payments Dashboard. You can sign up for Revelation Pets Payments via Account Settings » Integrations » Revelation Pets Payments » Create an Account.
This article includes:
Related Articles:
Revelation Pets Payments Dashboard
Navigate to the Revelation Pets Payments Dashboard via Account Settings » Integrations » Revelation Pets Payments » View Account.
Once you pull up the Revelation Pets Payments Dashboard, you will see a side panel with five sections: Account & Details, Transactions, Payouts, Reports, and Card Readers. Here we will review each section of the Revelation Pets Payments Dashboard.
Account & Details
The Account & Details section of the Rev Pets Payments Dashboard is where you will find any information regarding your Revelation Pets Payments account. This displays your account status, contact information, bank account(s), and account details including your payout schedule.
If you need to make any changes to your account, this can be done via this page by clicking the "Edit" button.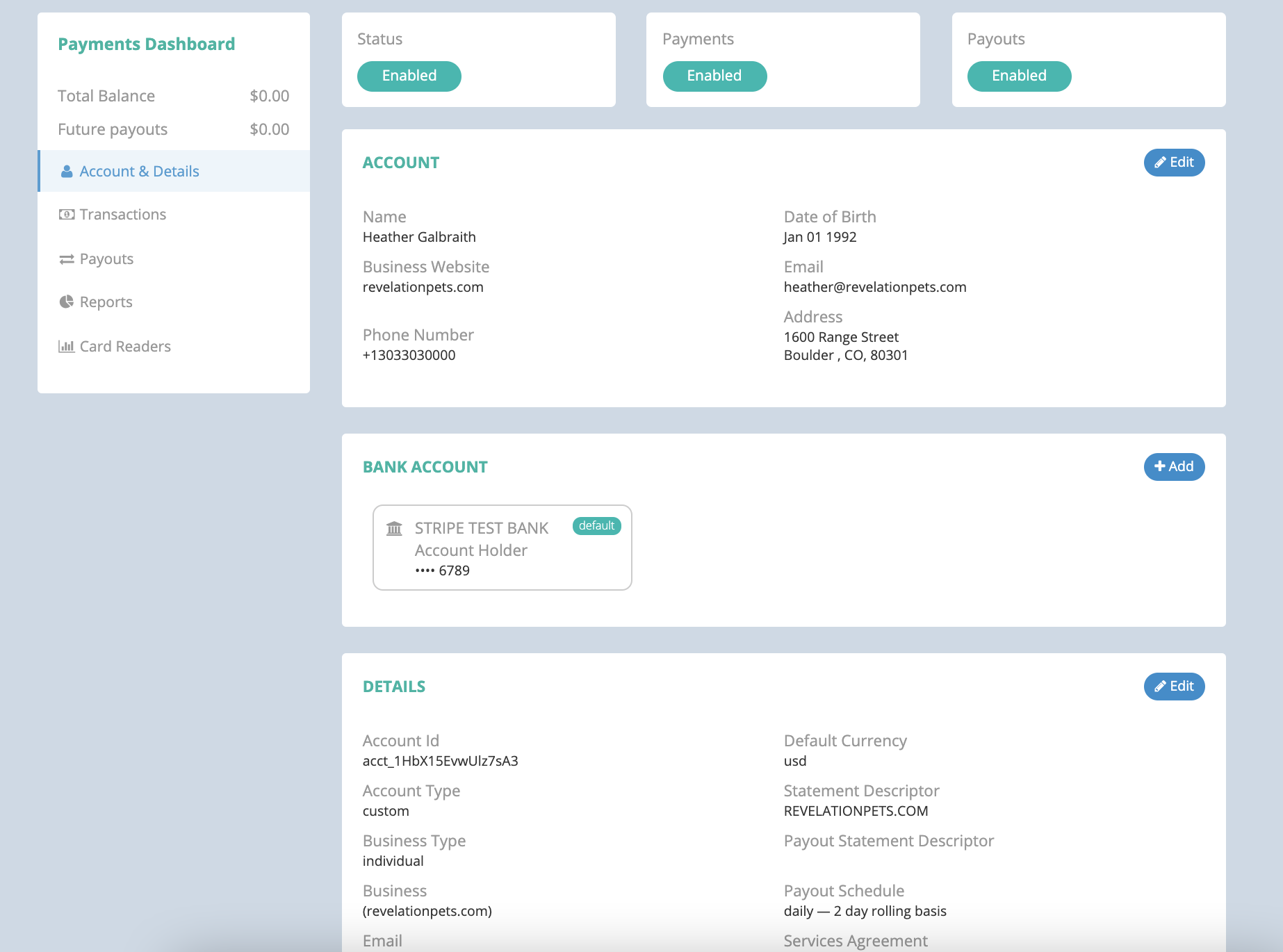 Important! If the Payments section at the top of the Rev Pets Payments Dashboard shows as Enabled, then this means your account status is active!
Transactions
You can find Re Pets Payments transactional reporting on the Rev Pets Payments Dashboard under the Transactions section. Here, you can see information regarding payments and associated fees for each transaction.
With Rev Pets Payments, fees are assessed and collected through each transaction, rather than calculated at the end of the month. This alleviates the need for month-end statements!
Payments processed using Rev Pets Payments will also display on the Payment Report in Revelation Pets! These payments will populate as Stripe. For focused financial reporting on Rev Pets Payments, click the Reports section in the RevPets Payments Dashboard.
Click here for more information regarding RPP reporting.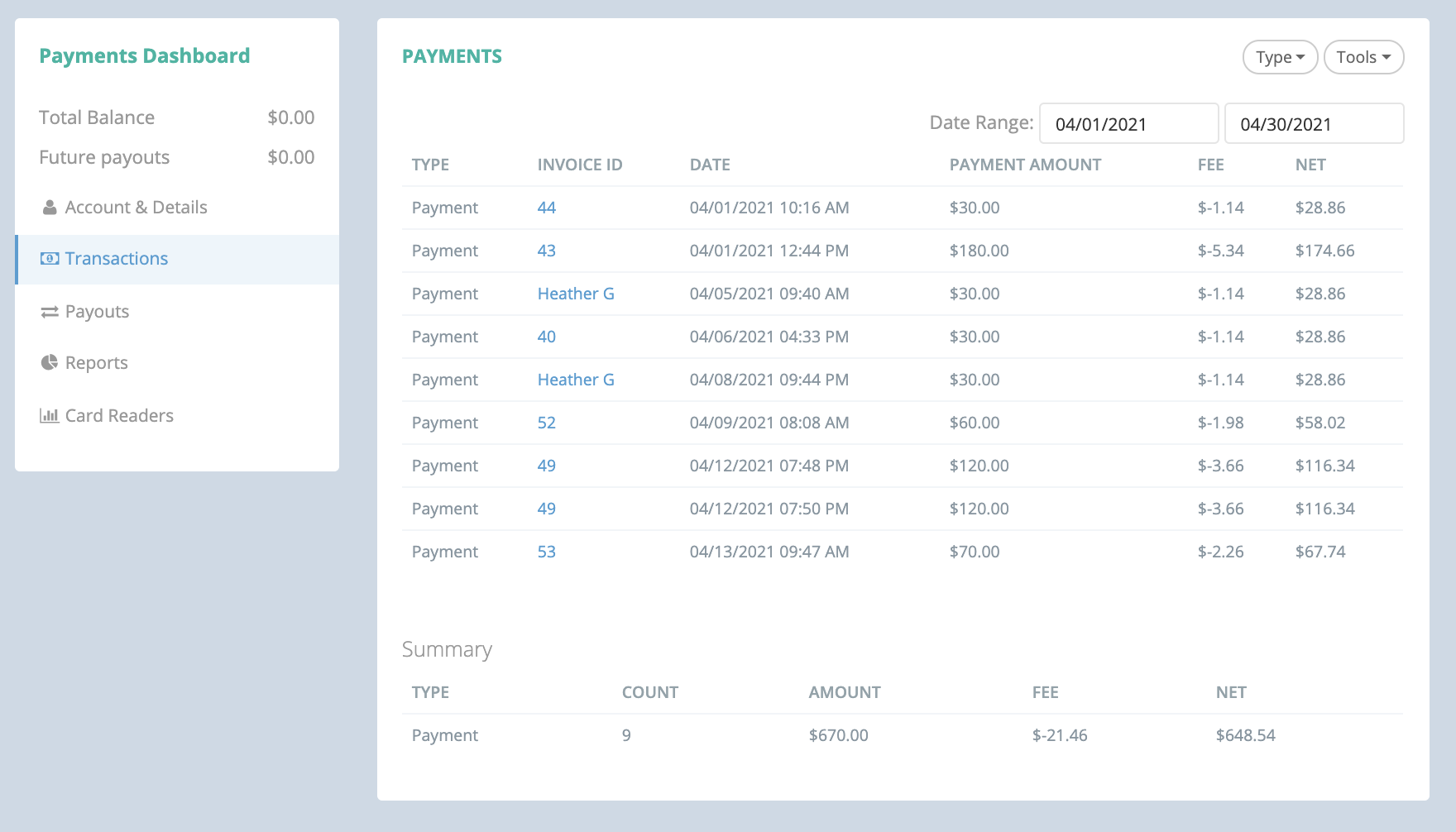 *Notes on Fees:
Fees are calculated on every transaction and only the net payment less fees will be received by the business.
Fees are also rounded up to the nearest (smallest) currency value.
Example calculation:
11.11 payment x .013 percentage fee = 0.14443 +.20 flat fee = 0.34443 rounds up to 0.35 for the fee
*Fees differ by country.
Payouts
The Payouts section of the Rev Pets Payments Dashboard will show a history of all of the payout details associated with your account. This will give you the sum of all fees assessed and payments collected, as well as reconcile the payout amount.
Payouts are delivered on schedules determined by your country, as well as the risk associated with your account. Once your account has been created, you can see your Payout Schedule on the Account & Details sections of the Revelation Pets Payments Dashboard.
For more details on payouts please refer to the Rev Pets Payments Overview article.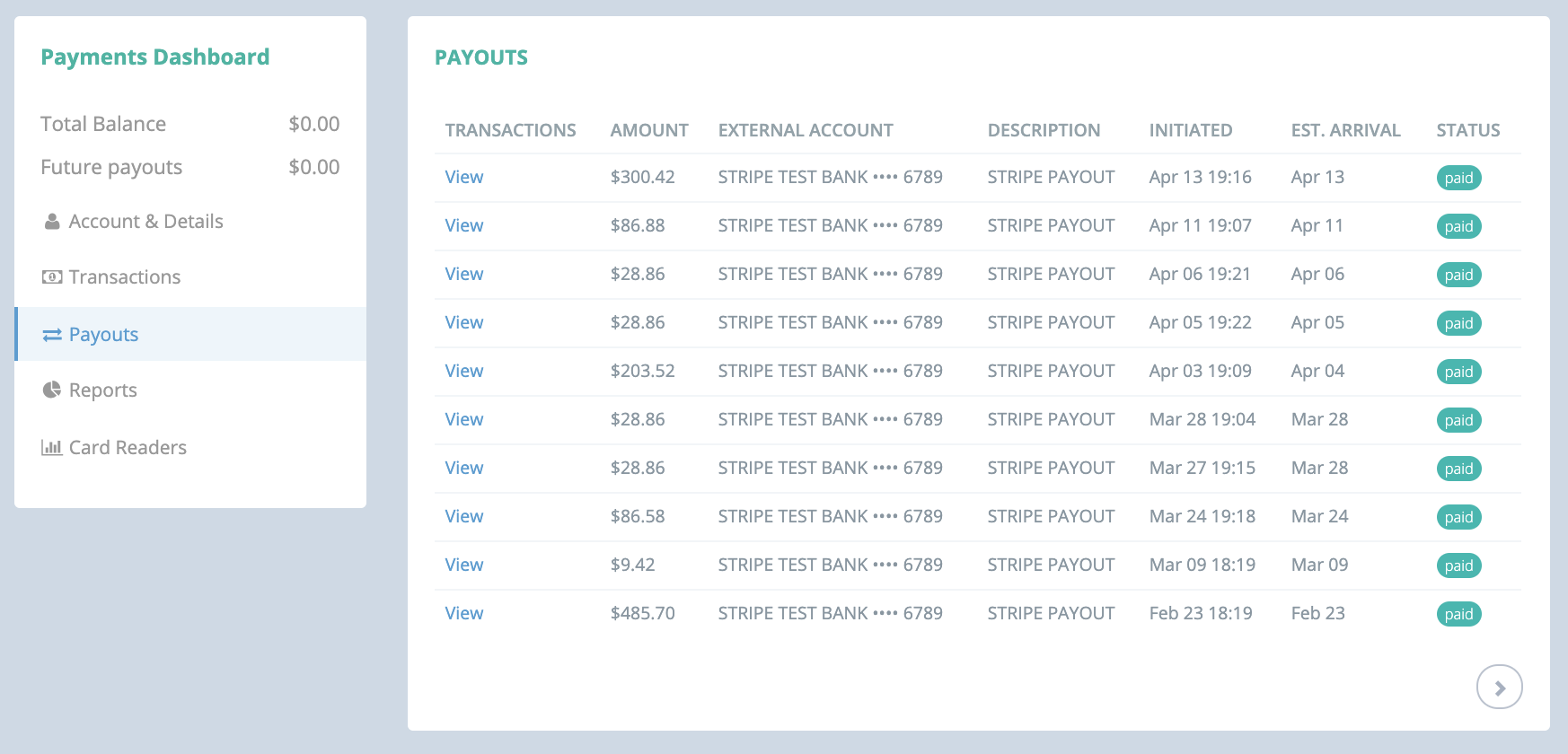 Reports
The Reports section of the Rev Pets Payments Dashboard will keep track of any transactions and payouts that used Rev Pets Payments, and consolidate this information for easier revenue reporting!
Reports has three separate reporting sections: Today, Reports Overview, and Financial Reports: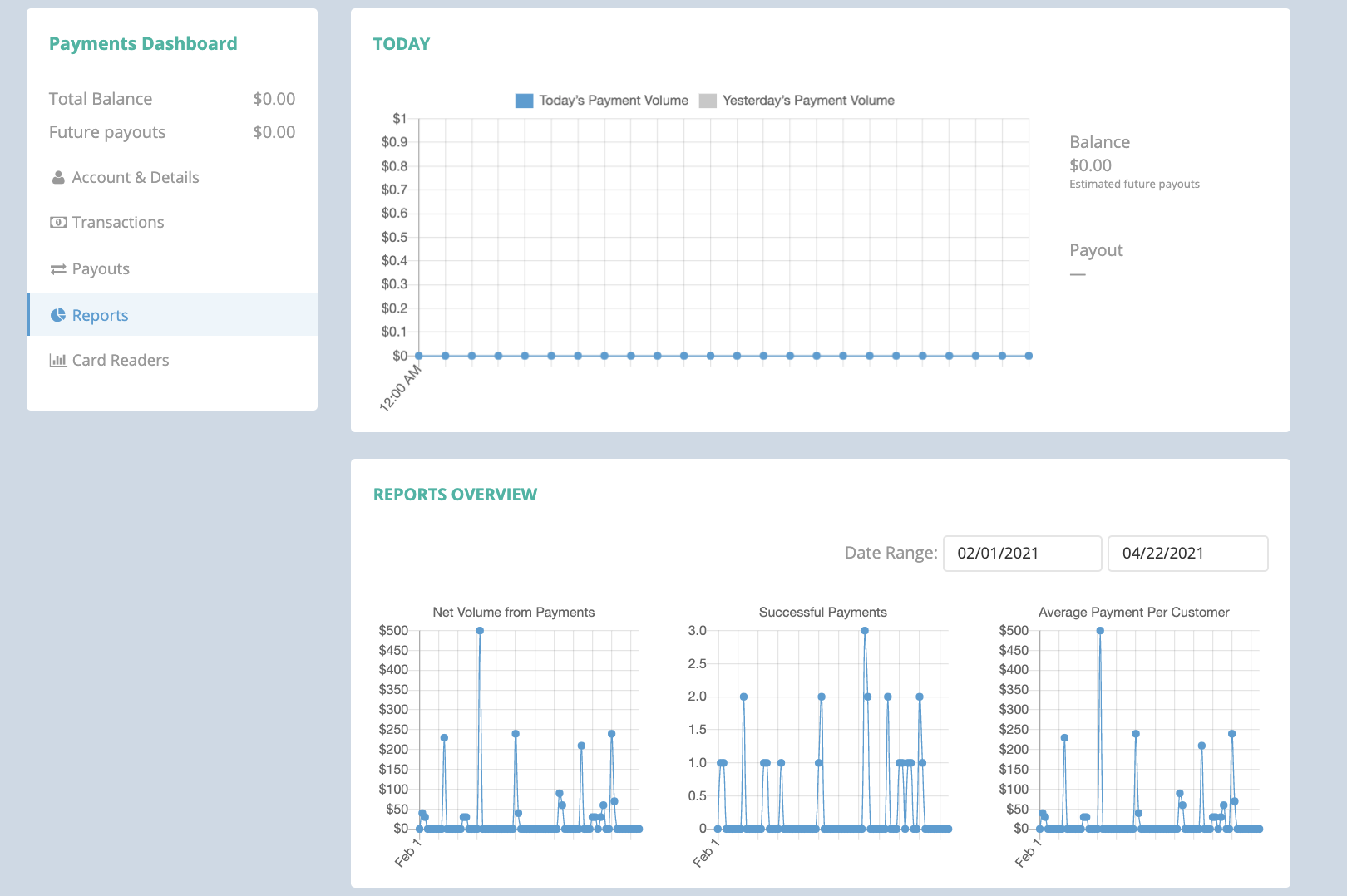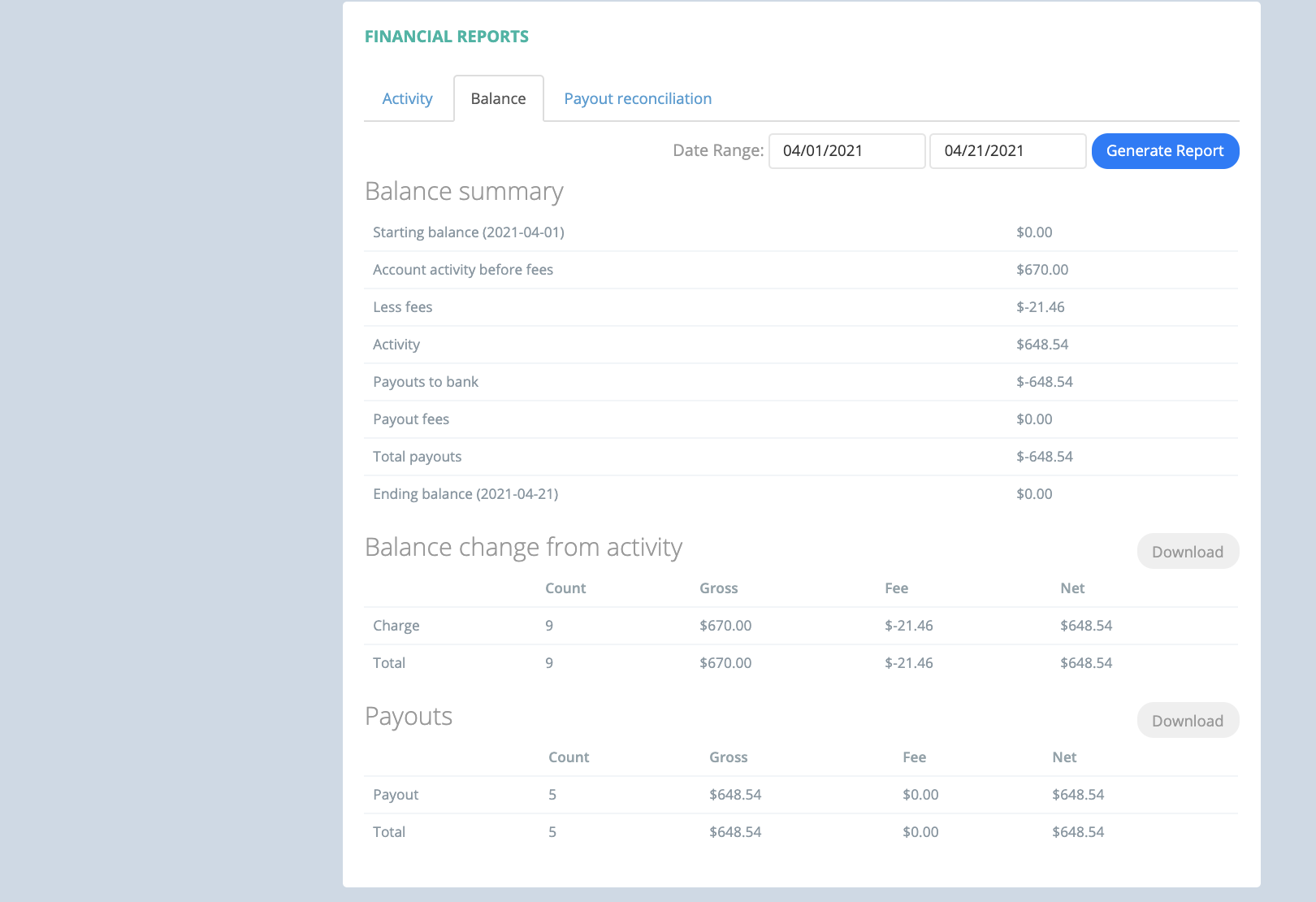 Today: This section tracks payment volume from today compared to yesterday generated through Rev Pets Payments. This is a view-only graph, meaning there are not parameter options the user can change. The features on this section include:
Gross volume today compared to yesterday

Your country's currency Balance

Payouts (show the amount for the next expected payout) and when it is expected
Reports Overview: This section will have a sequence of graphs that reflect Rev Pets Payments history the user can view by selecting various date ranges. These graphs include:
Net Volume from Payments (Called "Net Volume from Sales" on Stripe dashboard)

Successful Payments

Average Payment Per Customer
Financial Reports: This section of Reports will show a breakdown of your Balance Summary, Payouts, Activity, and Payouts Reconciliation. Click on one of the page tabs and select your date range(s) for custom reporting! These are linked to the following reports generated via Stripe API:
Payout reconciliation

Payment fees report

Balance Report

Activity
Card Readers
The Card Readers section is where US, UK, Canada, Australia, and New Zealand customers can order and manage terminals.
*Please note: The Verifone P400 terminal is no longer available to purchase effective September 14, 2021, however customers who already have the terminal can continue to use it. Stripe will provide customer support and critical software updates for the Verifone P400 through the end of 2023, but does not plan to introduce new features for these devices.
If you are ordering a new terminal, you have the option to choose from various delivery options such as Standard, Three Day, Two Day, or Next Day shipping! Please keep in mind that if you are a facility ordering a terminal outside the US, you may have longer shipping times.
For additional information on Rev Pets Payments terminals please refer to these related articles: