Overview: What are we talking about?
Runs refer to the number of spaces you have available at your facility or home run business. Runs are allocated to each boarding and/or daycare booking. Revelation Pets adds capacities to runs, so you do not overbook your availability. Whether you have physical spaces in your facility (like dog kennels or cat condos) or manage a smaller free-roaming pet business, assigning a pet to a run/space is a necessary step in the booking process. Runs cannot be double booked by different customers at the same time. However, siblings can share a run based on how you configure your application. Let's take a closer look at run management since this is an essential component of any application setup that offers boarding and/or daycare as a service!
This article includes:
Related articles:
Let's Get Started with this Video Overview!
How to: Set Up Your Runs
1) Navigate to Account Settings » Your Runs

2) In the top section of the page, you will designate how many runs/spaces you have available. This is the total amount of spaces for all pet types.
Next, if you are a business that has boarding as a service, you will select either "I charge by the night" or "I charge by the day" for your boarders. (Keep in mind that this is 1 of 2 pages where the "Charge By" rules will be considered. Account Settings » Services & Costs will also ask you whether a Boarding rate will charge by night or by day.)
Lastly in this section, you with choose whether or not you'd like to enable Rev Pets' belongings feature.
Learn more about our Pet Belongings Feature HERE.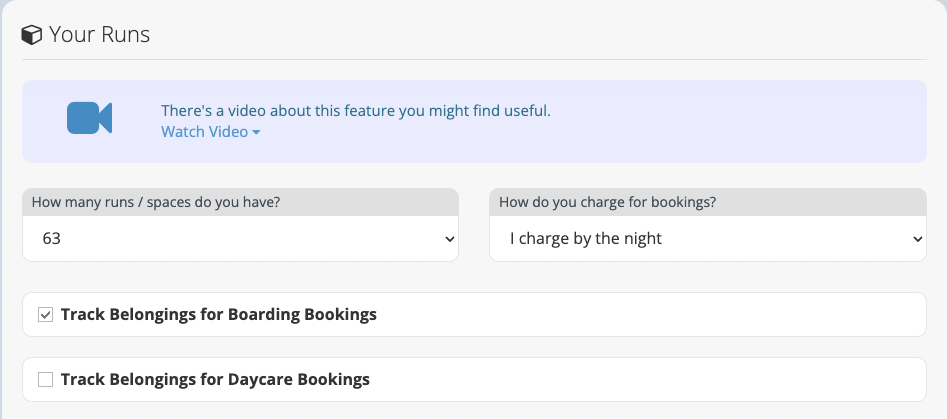 3) On the bottom section of the page, you will label and configure each individual run/space.

In the example above, the run/space's label is "Kennel 1", the space is specifically for boarding bookings, it can hold up to 3 siblings, and is only designated for dogs (as a pet type).
4) How you configure your runs/space on the Your Runs page will correlate to how your runs/space display on the booking calendar.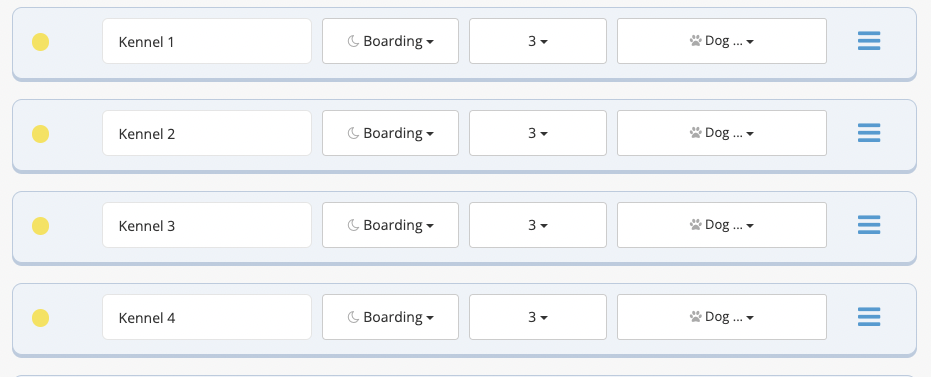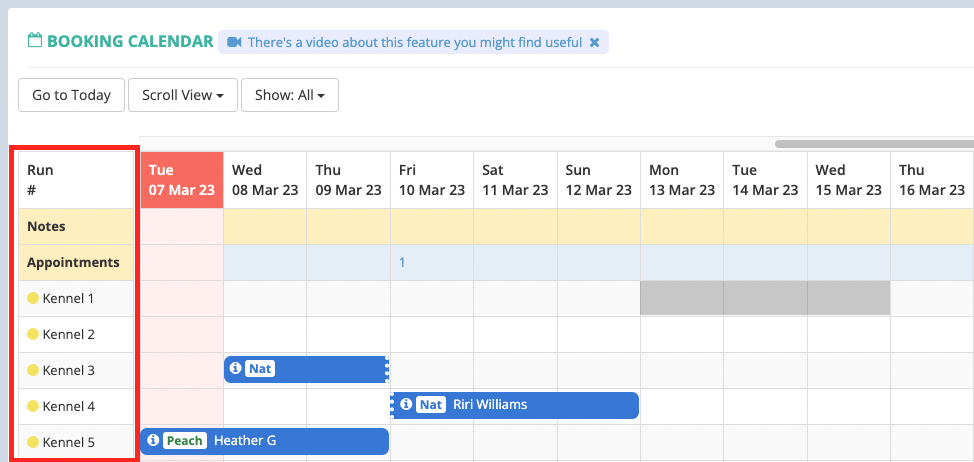 Please note:
The 3rd column designates how many siblings can share a space. Rev Pets does not allow pets from different families to share runs/spaces.

If your business is a free-roaming facility (meaning pets are not in a physical space, like a kennel, while in your care) you will want to still create 1 run/space per pet for the maximum capacity of your house, yard, paddock, etc.

In the example above, the business has a large main daycare yard that can hold a maximum of 30 dogs. Therefore, the application would need 30 runs/spaces for "Main Yard" only holding 1 dog per space. This configuration will ensure the main yard does not exceed 30 dogs in total.
If you are a business that boards pets that arrive in their own cage/housing unit, you will still want to create a run/space for the maximum about of boarders of that pet type that your business can manage.
In the example above, the business only wants to board a maximum of two birds at any given time.
How to: Create a holding run
Holding runs are for internal use only. A holding run can be used to create temporary space on your calendar to move bookings around, or if you want to have emergency spaces for sick pets or loyal customers.
1) To set up a holding run, navigate to Account Settings » Your Runs » in the 2nd column select "Holding".

2) Holding runs display on the booking calendar with a grey diagonal line.

3) Existing bookings can be dragged and dropped into a holding run if needed.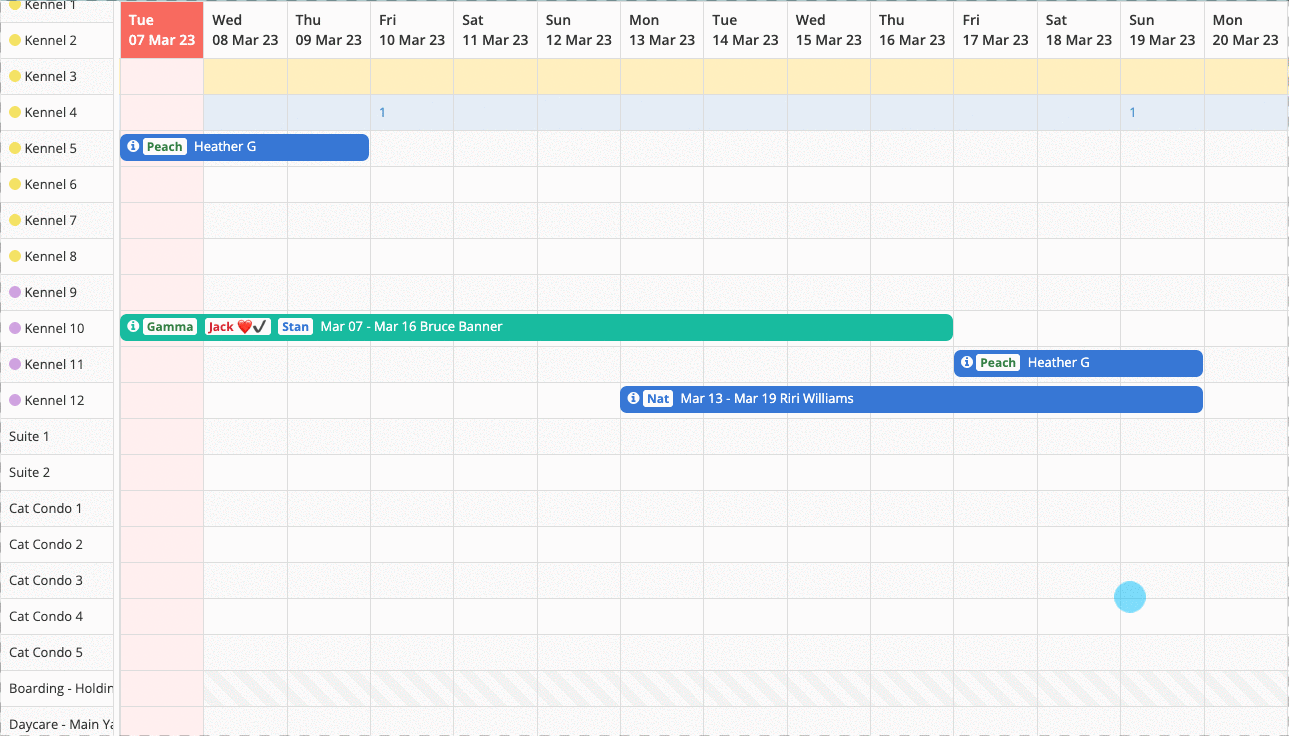 Please note:
Holding runs cannot be booked from the "Create a booking" button nor via the online booker.
Holding runs do not count towards the total run count or occupancy rates.
Drag and drop functionality is only available on desktop or laptop computers.
How to: Charge different rates for different runs types
Rev Pets has been designed to charge by pet type. Each pet type will be designated a "standard rate" as the main run/space rate you offer. You can manually update the standard rate with a special rate if you charge different rates for different run types.
1) Navigate to Account Settings » Services & Costs » Boarding and/or Daycare rates » enter your "standard rate"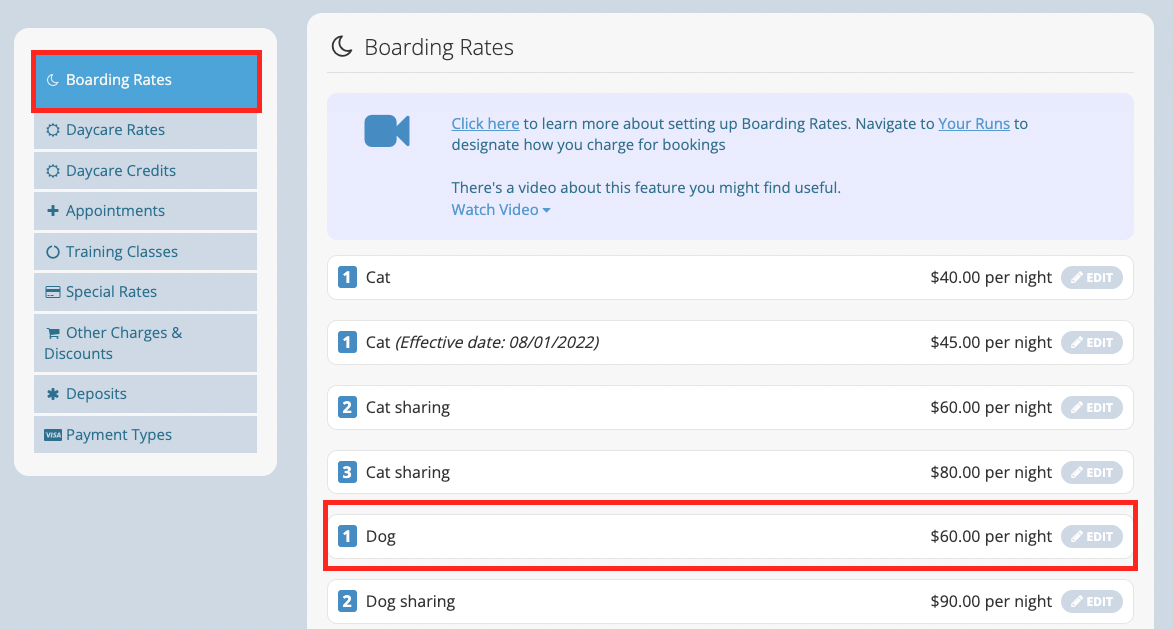 2) To override the standard rate in the Costs section of a booking, you will want to create a special rate (learn more about Special Rates HERE). Navigate to Account Settings » Services & Costs » Special Rates » create rates for your runs/space that differ from your standard rate.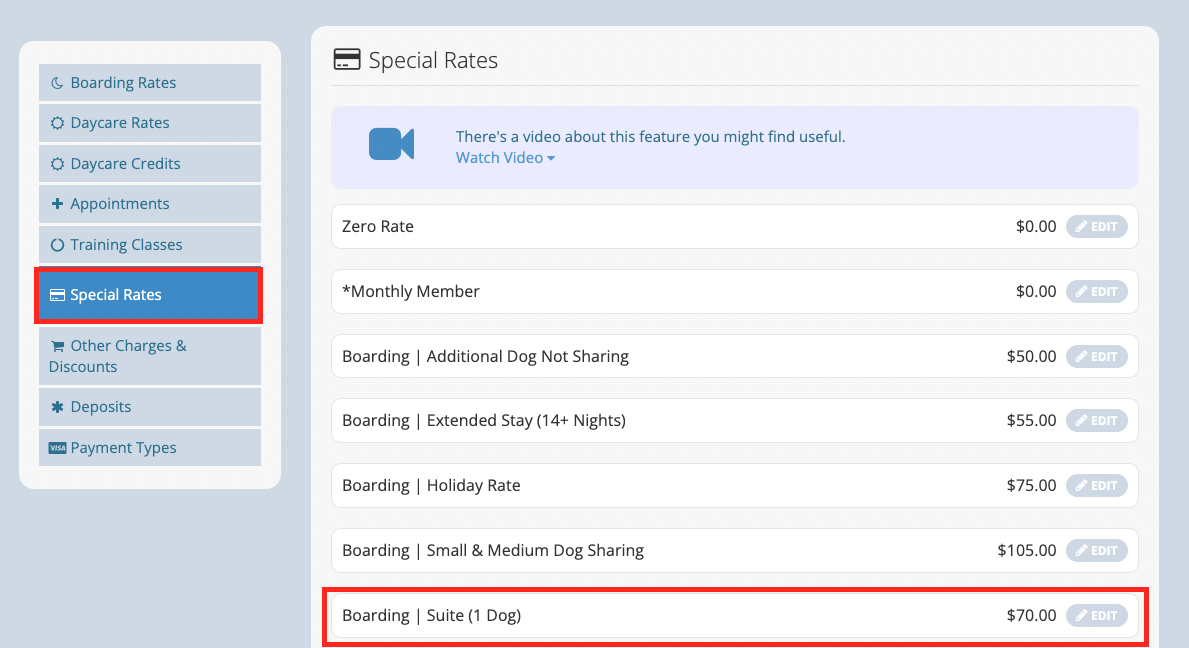 3) Book the pet in as normal and then click on the 'Standard Rate' dropdown in the Cost section of the booking to override the standard rate with the appropriate Special Rate from the list.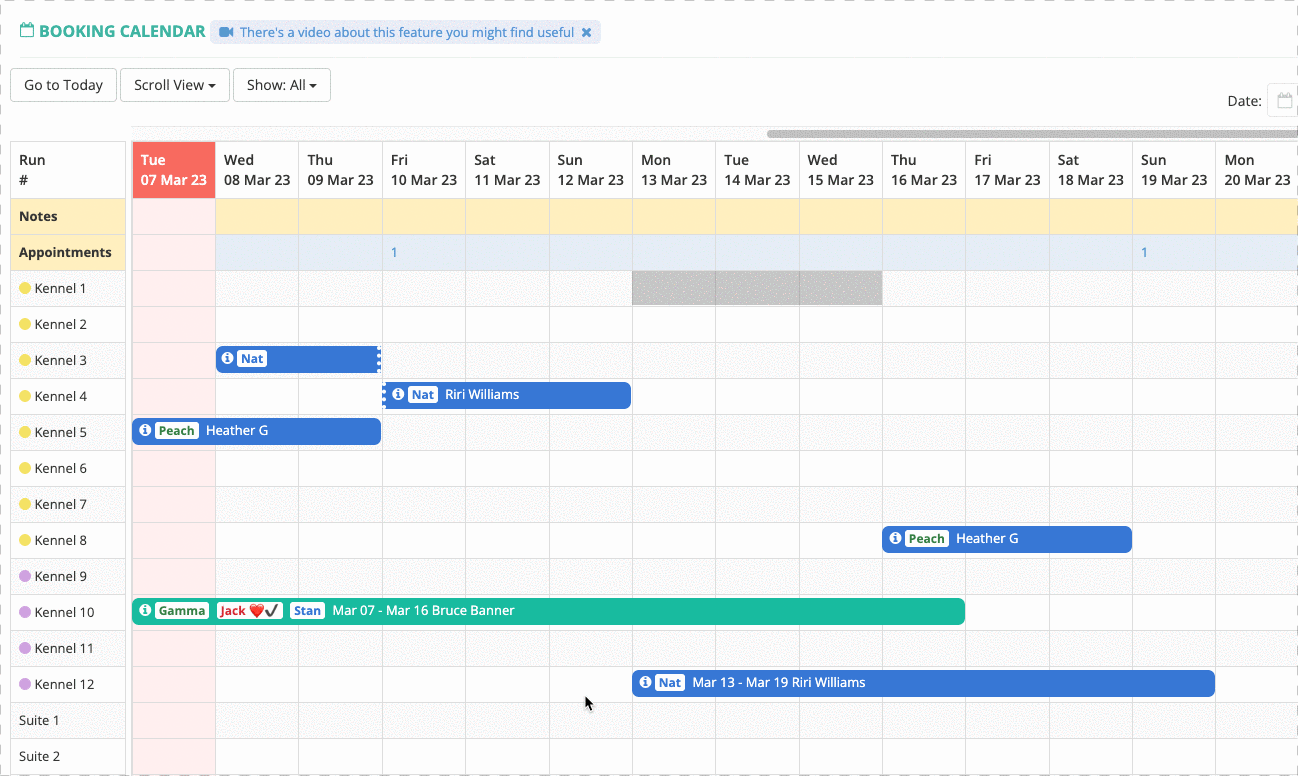 How to: Disable a run from use for a period of time
You have the option to either block off individual runs or all your runs for any date range.
1) Navigate to Account Settings » Blackout Dates

2) On the Blackout Dates page, navigate to the Black Out Runs section. Using the dropdown, select the run or runs you would like to disable, select the booking type (if applicable), and select the appropriate date range for the blackout period.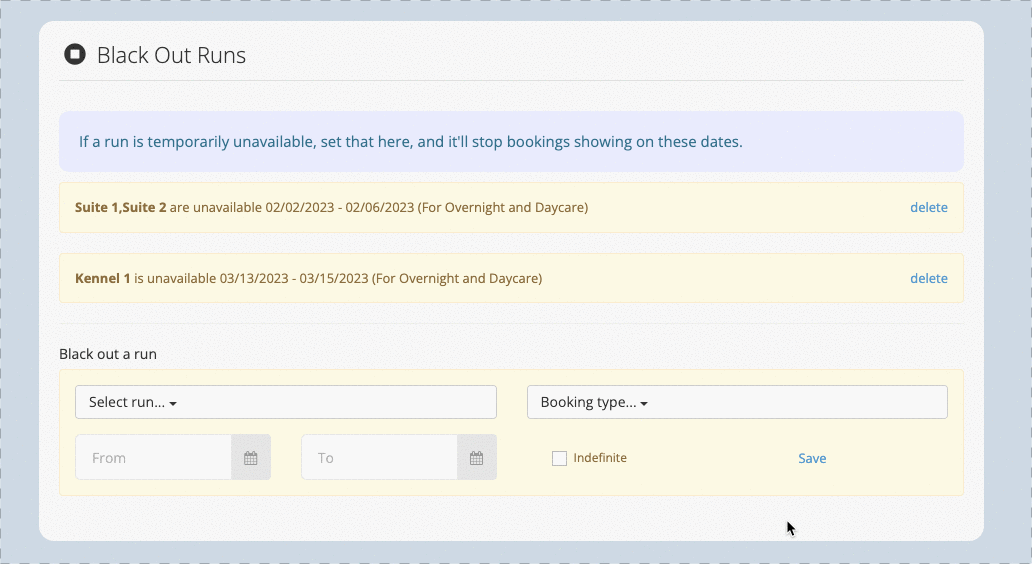 How to: Add more than 100 runs
Rev Pets initially provides users with 100 runs however, you are able to purchase more runs if needed.
Once you subscribe to either our Gold or Silver plan, navigate to Account Settings » Your Account » Your Subscription » click the "Add to my plan" link for 50 additional runs/spaces.

Please note: Adding additional runs is a monthly, recurring charge. If your business needs more than 150 runs, please reach out to our Support Team (support@revelationpets.com) for assistance.