Connecting Revelation Pets to your Mailchimp account is easy, but there are a few steps.
The connection will allow you to send all new customers to your mail chimp mailing list automatically. This is great for when you want to send out e-newsletters with promotions or general news.
Step 1 - Get your Mailchimp API Key
You will need your Mailchimp API key. This is a weird set of letters and stuff that MailChimp gives you to talk to other software companies like Revelation Pets.
Click on this link to find your API Key in MailChimp
http://kb.mailchimp.com/integrations/api-integrations/about-api-keys
That is the hard bit - if you get stuck on that, please contact Mailchimp's friendly support team https://mailchimp.com/contact/support/
Please note: In order for the API key to work, you will need to have an active list in MailChimp to select so you can later import your customers into that list.
Step 2 - Put that key into Revelation Pets
Find the Integrations page on Revelation Pets by going to Account Settings » Integrations.

Click on the button to link to your Mailchimp account:

Enter the API Key in to the box: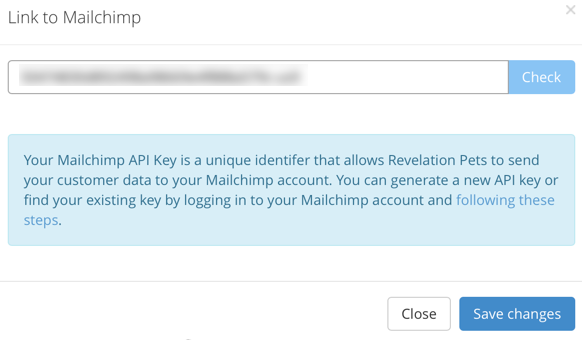 Next click on the Check button - this will allow you to select which mailing list the email addresses need to be added to. Select the target list: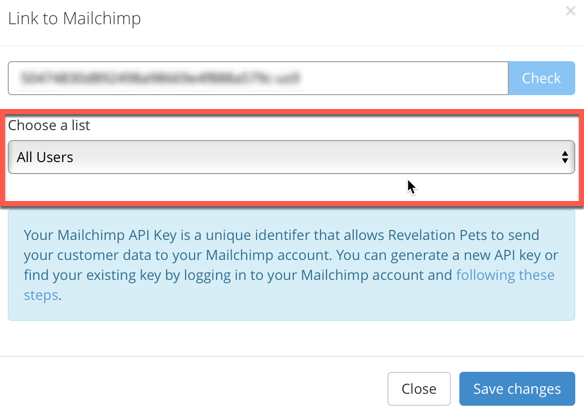 New email addresses are sent to your Mailchimp account overnight via a batch process, so you will not see them in the mailing list immediately.
To load all of your customers email addresses from Revelation Pets in to Mailchimp (prior to the configuration of this plugin) you will need to do an export from Revelation Pets :
Navigation: Customers - Tools - Export Customers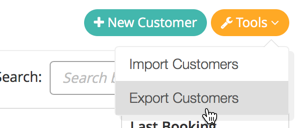 And use the file that is download to run the import. Mail Chimp provides instructions here: http://kb.mailchimp.com/lists/growth/import-subscribers-to-a-list
Any questions, please drop us an email support@revelationpets.com.