Overview: What are we talking about?
Our User's feedback is very important to us! Our Feature Feedback tool is the best resource for Users to provide our internal teams with valuable feedback on 1) features they would like to see us create in the future, and 2) improvements to existing features that would increase value, usability, and/or functionality to the software.
This article includes:
How to access the Feature Feedback page
1. Navigate to the "?" icon in the upper righthand corner of the application.

2. In the menu, select "Feature Feedback."

3. By selecting "Feature Feedback" you will launch the feedback forum.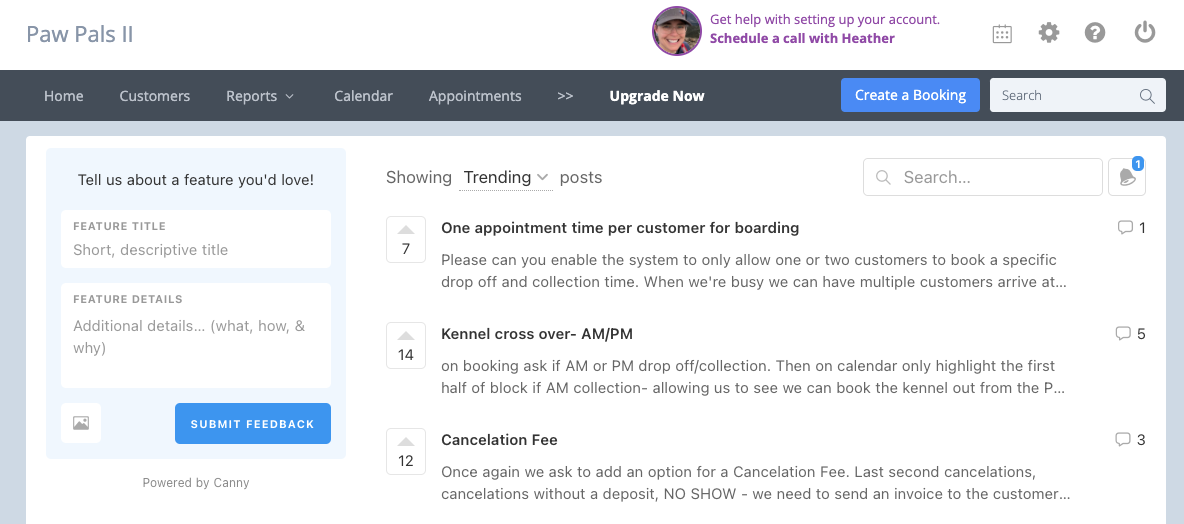 Pro tip: If the Feature Feedback page fails to load, simply refresh your browser window.
Navigating the Feature Feedback Page
Power Search Bar
This is the best place to start on the feedback forum. There is more "power" in numbers, so upvoting an existing suggestion is ALWAYS a best practice rather than starting a new post. Multiple posts for the same suggestion pulls voters in too many directions instead of drawing attention to an existing post on the board.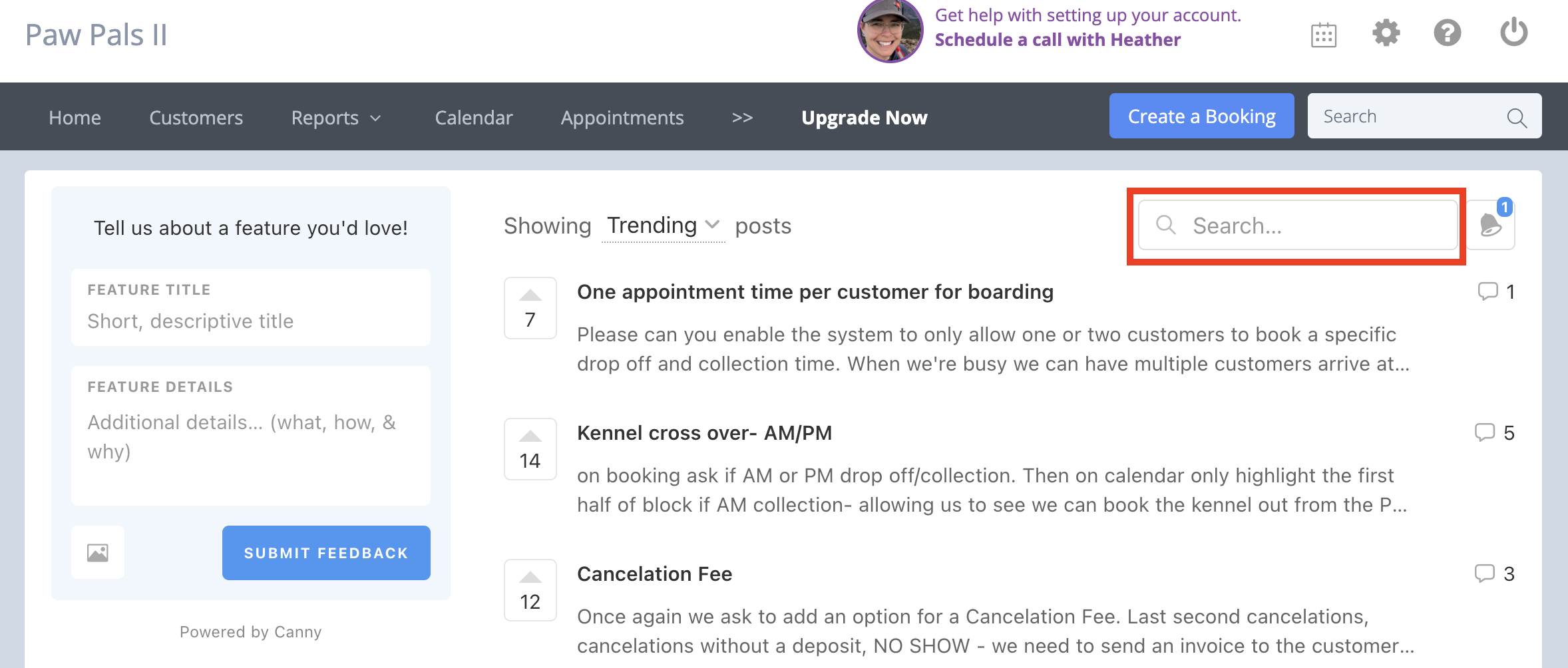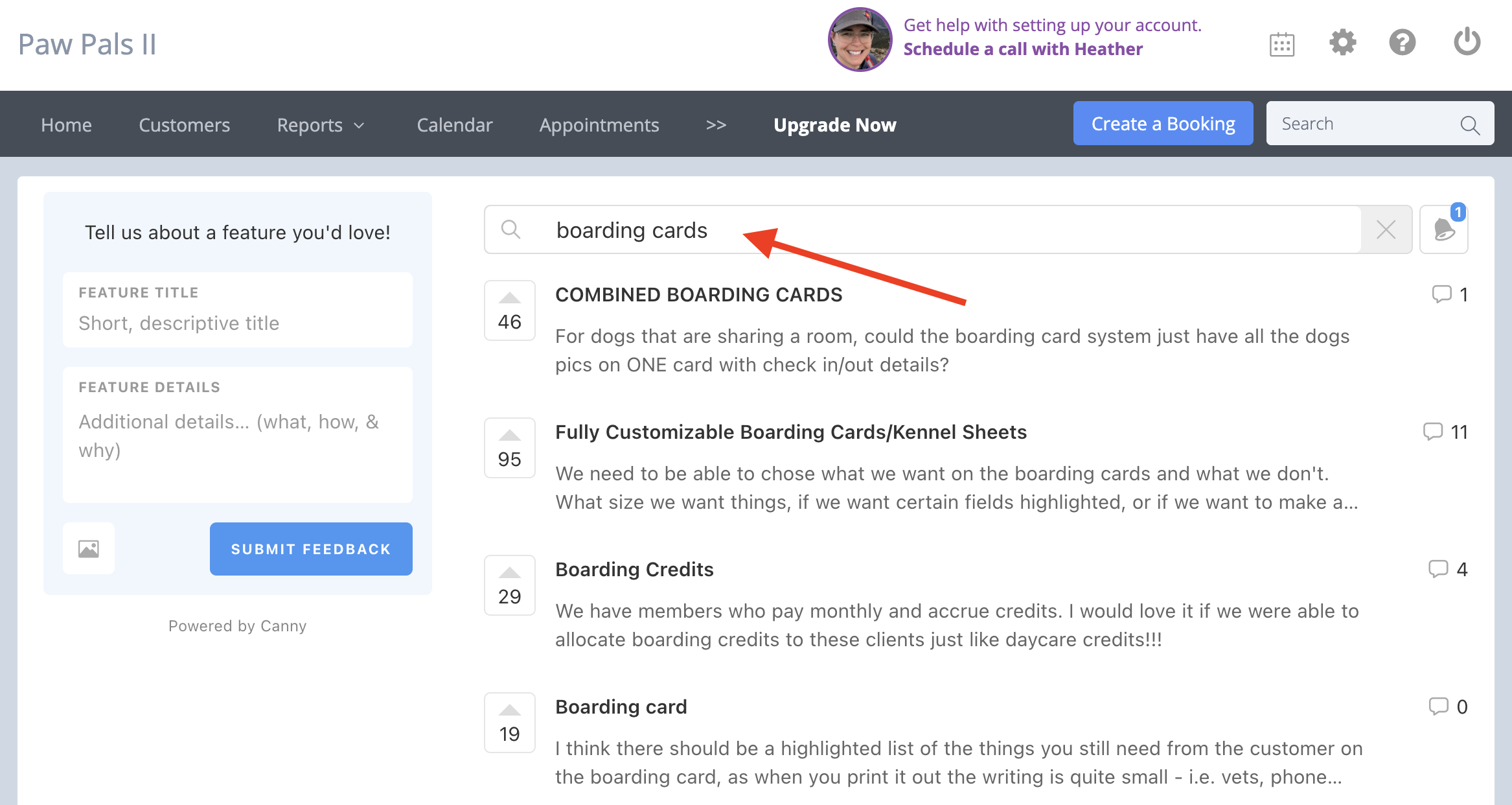 Sorting and Filtering
By clicking the downward carrot next to the word "Trending" you can sort and filter the feedback forum.
1. Sorting the feedback forum: "Trending" sorts by posts that are getting upvotes by other Users quickly. "Top" sorts all existing posts in order of number of votes. "New" sorts all existing posts with the newer posts on top.

2. Filtering the feedback forum:
"Under Review" filters posts that our Product/Development teams are activity considering.

"Planned" filters posts that have moved past "Under Review" and are suggestions that our Product/Development teams plan to implement in the future.

"In Progress" filters posts that are currently being worked on/developed.

"Complete" whoooo hoooo! these posts/suggestions have been released! You can always check our Release Notes section for more information on recently released features/improvements by navigating to the "?" icon and selecting "Release Notes."

"My Own" filters posts by suggestions the YOU have either submitted or upvoted.
Notifications
Review comments other Users have added to posts that you care about. If another User mentions you directly, you can review those @mentions here too.

How to post to the Feature Feedback page (i.e. What information is most helpful for our Product/Development Teams)?
1. STOP! Before creating a new post, it's important to use the power search bar to see if there is already an existing related request. Upvoting an existing post is more powerful than creating duplicate posts on the Feature Feedback page.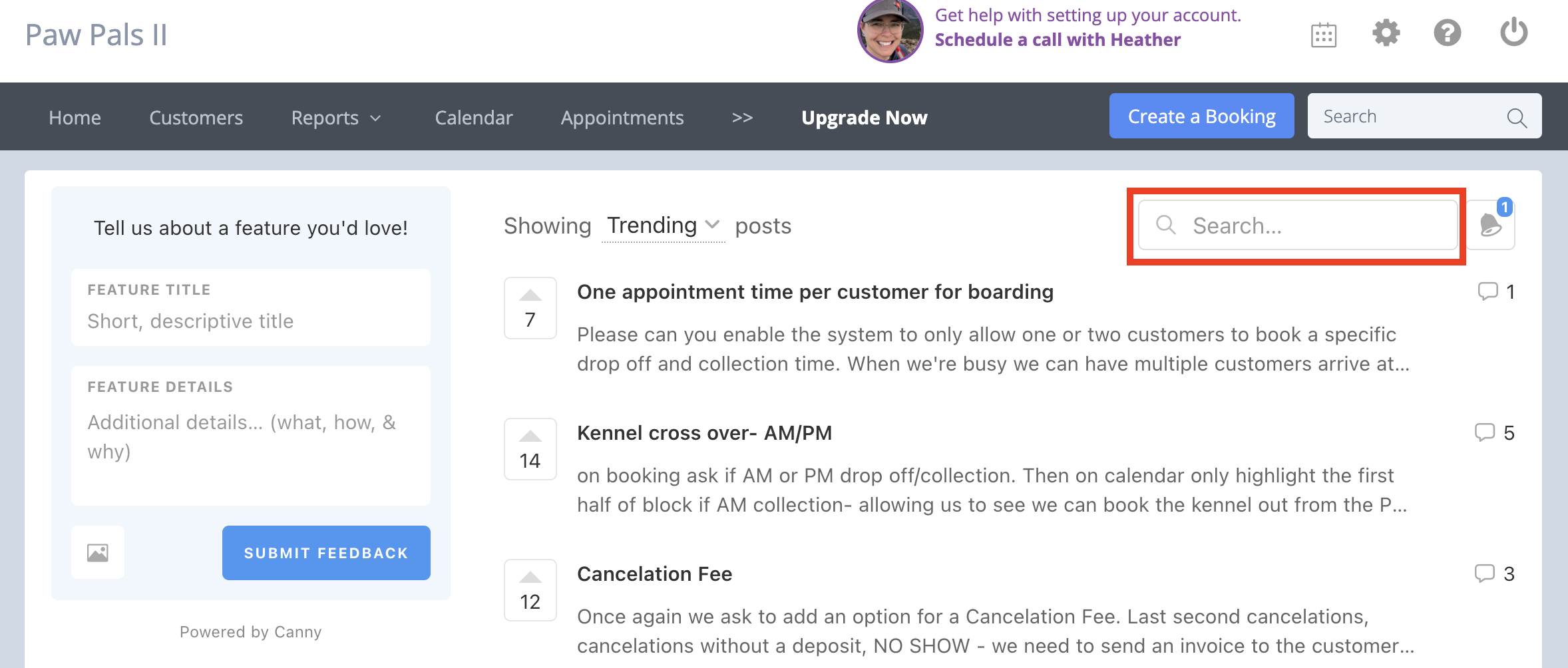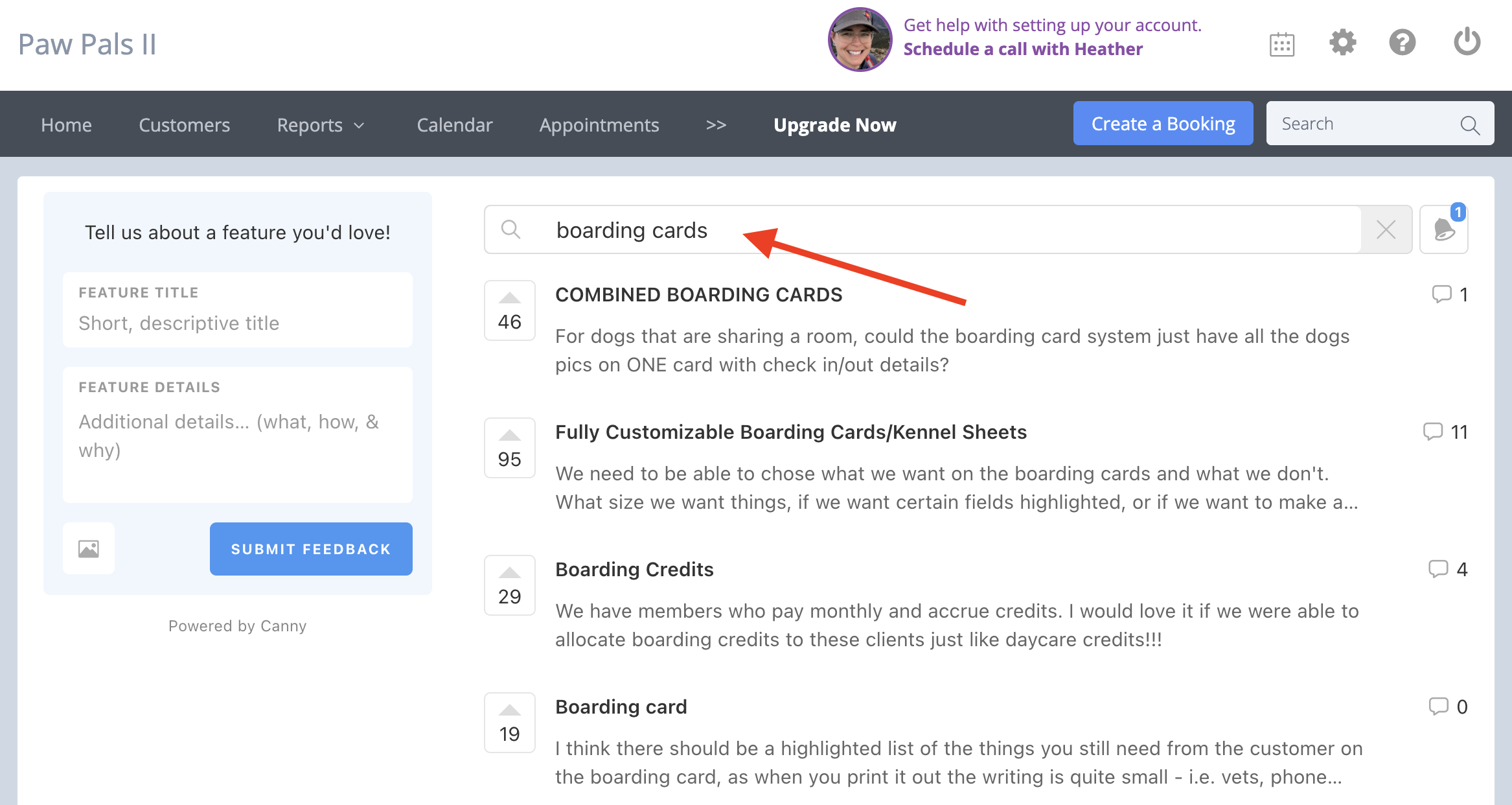 2. After you have searched existing posts using the power search, and have not discovered your idea or suggestion, navigate to the lefthand side of the Feature Feedback page.

3. Create your "Feature Title." Short and descriptive is the key here. Vague titles make it hard for other Users to understand and (hopefully) upvote your suggestion. For example, instead of an ambiguous title like "Booking Improvement," specifically state what improvement you'd like to see, such as "Ability to add more than one boarding stay to a booking." Remember: you want your new post to get other Users engaged, upvoting, and leaving comments.
4. Add your Feature Request "details." Details is the key word here, but that does not mean you need to write a novel. Our Product/Development teams are looking for the what, how, and why.
What - What existing feature would you like us to improve on? What new feature would you like us to add? A clear understanding of the "what" is super important for our internal teams. Add screenshots if possible, and navigation steps to make sure our team knows exactly what you are referring to. Be detailed but structured.
How - How do you envision this new feature or feature improvement looking and behaving within the application?
Why - Perhaps the most important, the why. Why is this suggestion/post so important to you? Will this new improvement/feature save you admin time? Will this new improvement/feature help your customers or your staff use Revelation Pets? Does your suggestion/post impact Revelation Pets Users as a whole, or is the post specific to your business, or country? Product/Development resources are finite so the "Why" is definitely something our internal teams consider before moving forward with a suggestion.
5. Feeling good about your feature request's title and details? Great! Click the "Submit Feedback" button and your post is in the mix for consideration by our internal teams.
Pro tip: Need to edit or add a comment to a previously submitted post? To find your posts (or posts you have upvoted), use the 'My Own" filter.

FAQs
• Does posting a suggestion more than once increase the chances of my suggestion being considered? - No. Posting the same suggestion more than once thins outs votes and makes navigating the Feature Feedback page more difficult for other Users. Upvoting an existing post has more weight than adding a suggestion multiple times.
• Can I add a comment to an existing post? - Absolutely! Click on the existing post title to expand the post, then feel free to leave a comment. (*Don't forget to upvote too)!
• Does the Revelation Pets team even look at the Feature Feedback page? - Yes! We regularly review and consider posts made to the Feature Feedback page. Again, User feedback is important to our team! That being said, we do appreciate your patience as our team implements improvements and new features.
• How do I know if I should post to the Feature Feedback page? - Not sure if your thought/suggestion is a new feature or a possible existing feature improvement? Our Support Team is happy to review your possible submission first. Please reach out to the team at support@revelationpets.com.
• What if I have an awesome suggestion or workaround to help a User who has just posted to the Feature Feedback page? - Please share! Implementing improvements and/or new features takes time (again, we appreciate your patience!), so if you have found something that works well for your business with present-day functionality, please leave a comment and spread your creative knowledge of Revelation Pets to other Users.
Have additional questions about the Feature Feedback tool? Our Support Team is happy to help support@revelationpets.com.